These Unicorn Bath Bombs are so Easy They're Magical!
I've had this insane plan to make unicorn bath bombs for a while, but they turned out so much more magical and fabulous than I'd imagined–and they're wildly easy, too!
Unicorn Bath Bombs
Here at Ruffles and Rain Boots, we definitely have a thing for unicorns. I mean, if you think about it, unicorns, mermaids and dragons are kind of the most fun you can have. Sure, all those other mythical creatures are cool, but those three? Tops. So, when the kiddo asked for some new bath bombs, I figured it was time to try out the method I'd planned a while ago to make unicorn bath bombs–with sprinkles!
RELATED READING: MERMAID BATH BOMBS AND SCRUBS
The trick is to use sprinkles coordinated with colors for the stripes. I mean, that is just kind of everything, honestly. You get more enjoyment than you can imagine for that. So, if you're ready to make a magically fun DIY bath bomb, let's get started.
No Time to Make This Now? Pin it for Later
You're busy, I get it. Pin this to your favorite DIY bath and beauty ideas board on Pinterest and it'll be here for when you're ready.
As an Amazon Associate, I can earn from qualifying purchases.
Tips to Make Unicorn Sprinkle Bath Bombs
Start by grabbing the insanely cute unicorn sprinkles here. They make these fun unicorn sprinkle bath bombs, well, all sprinkley. They're worth it.
To get a really bright gold in running through the midline of your bath bombs using gold edible glitter, either make the mixture super thick or plan on painting a couple of coats. The bath bomb mixture kind of soaks it up if you make the mixture too thin. If you want to use the same gold edible glitter as me, grab it here.
Plan on having your bath bombs dry for about 24 hours before you use them to amp up the fizz. Plus, by letting the bath bombs dry for that long, if you've added a bit much liquid to the mixture, you'll still be able to get peak fizz.
I always recommend that you keep your Lush-inspired bath bombs in an air-tight container like a mason jar, Tupperware or seal-top plastic baggie, so that they last longer with the most fizz. And keep in mind, if you plan on giving them as a gift, you should keep them in an airtight container and maybe tell your recipient too.
Remember that you can put as much or as little fragrance or color into your unicorn bath bombs as you want-–they're your bath bombs and it's your bath. But never (and I mean never) use food coloring. If you do, you'll color the bathtub and quite possibly your skin. So, even though it's a little less convenient to find soap colorant or mica powders–it's worth it in the long run.
These unicorn sprinkles bath bombs are essentially just made-up of essential oils, citric acid, and a bit of water (and some other stuff but that's basically it), just like all of my bath bombs. So, if you run into any trouble getting your bath bombs to hold their shape, they're probably not wet enough–the recipe is intended to be a bit dry. Just add a little spritz of water and try again. But if you keep having trouble, check out this article on trouble-shooting bath bombs and shower fizzies.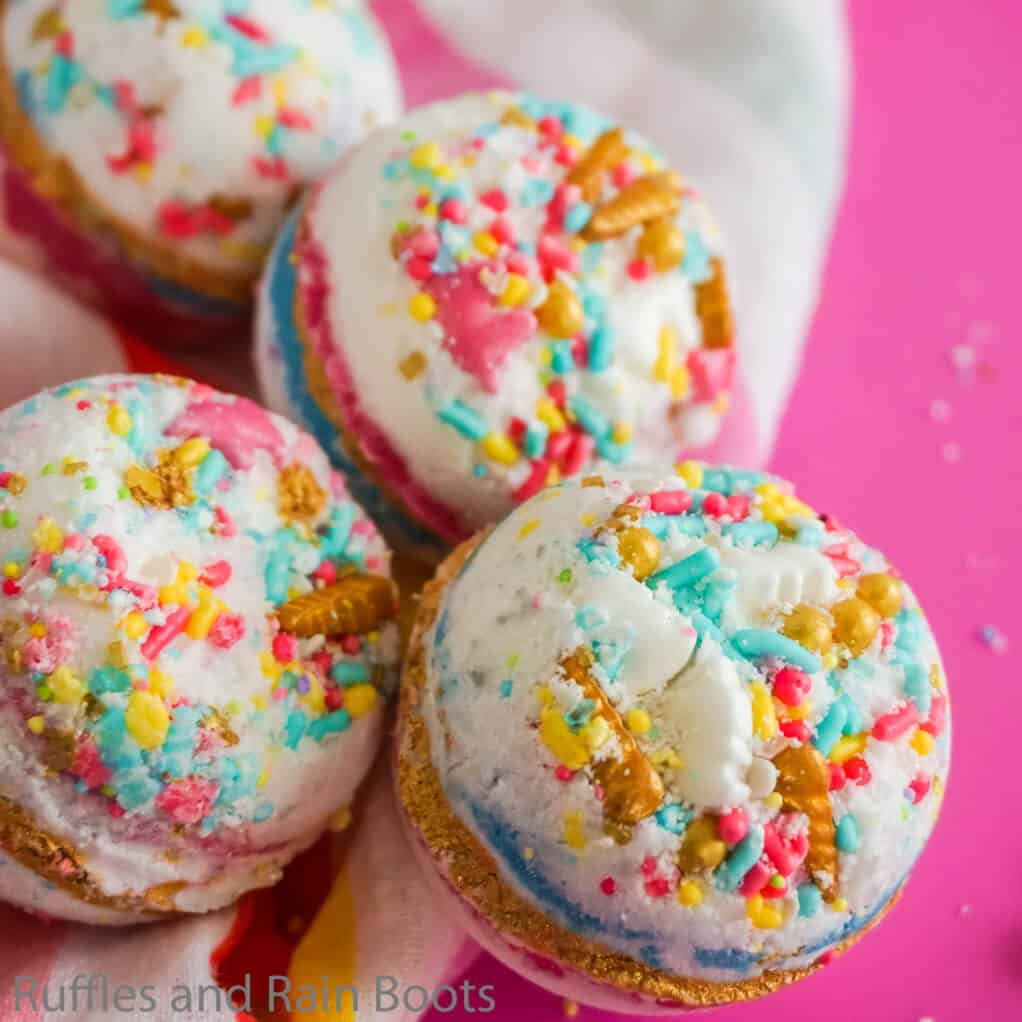 How Do I Make this Unicorn Bath Bombs?
I'm so glad you asked. Below is our written tutorial.
More Easy DIY Bath Bombs You Might Like
Cotton Candy Bath Bombs – Such a fun and simple way to make a bath bombs that the kids are DEFINITELY going to love!
Geode Bath Bombs – All the crystal fun you can imagine having in a bath–and made SUPER quick too!
Cupcake Bath Bombs – They're cute, swirly and generally the most fun you can have with a little soap and fizz in the tub. Just don't eat them.
Please Save This to Pinterest
Your shares are how this site grows and I am sincerely grateful. Know a friend who'd like this? Please share it on Facebook or save it to your favorite DIY bath bombs board on Pinterest.