Spring SVG Free Files for Cricut and Silhouette
Use these adorable and Spring SVG free files for your seasonal crafts and gifts and to make things just a little easier on you. These designs are weighted properly, are fully editable, and can work on shelf sitters, signs, tote bags, mugs, and more.
When looking through these cut files for Spring, keep in mind they can be used on any blank but also work with both vinyl and paper. If you don't work with a lot of paper in your cutting machine crafting, homemade cards are easy-peasy and gift tags are fun and fast projects. Let's get started.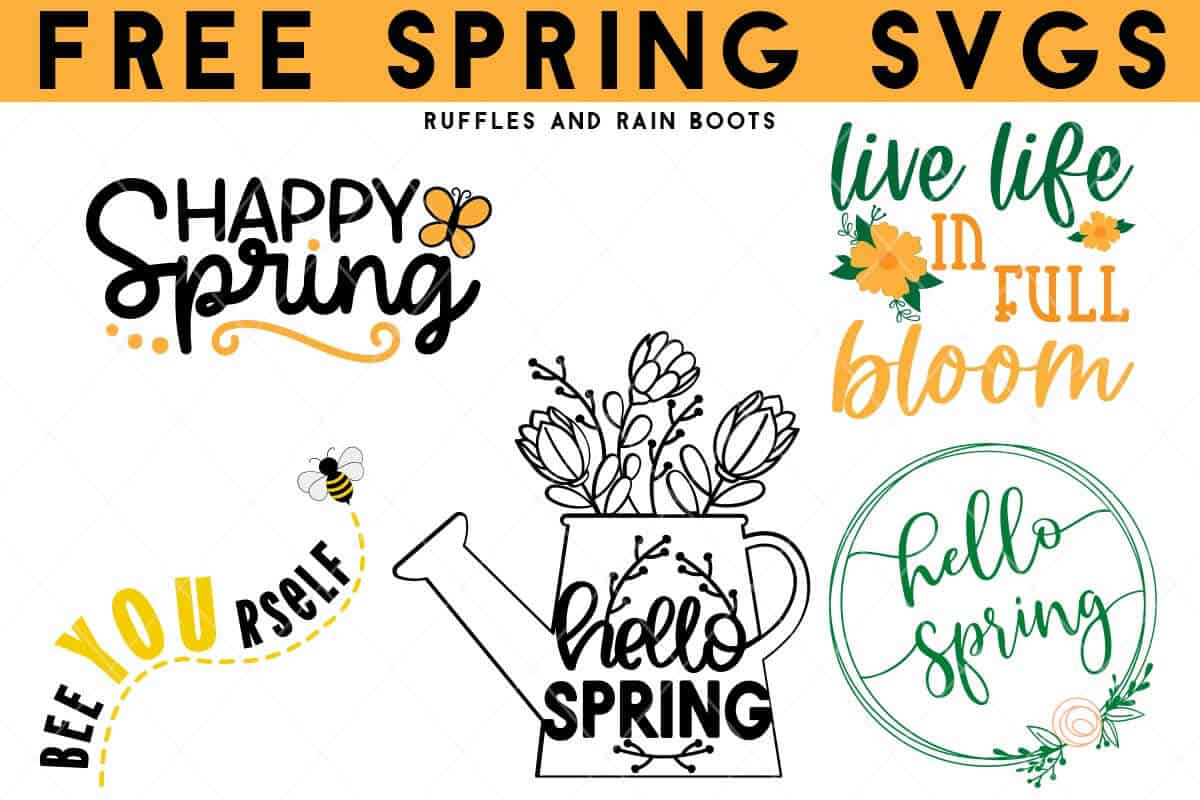 Free Spring SVG and Cut File Sets
Here at Ruffles and Rain Boots, I love to design cut files for Cricut, Silhouette, and other cutting machines. These machines have transformed my crafting – from brainstorming to the elation of watching something come together, I now think to myself, "I wonder if my machine can cut it?"
Today, I am sitting here with a steaming cup of tea and doodling on my iPad. Listening to the pouring rain and looking out on the gray day, I am longing to leave the gray days of winter behind. It's very, very gray here in Seattle and I'm dreaming of Spring.
Get Exclusive Free SVGs, Discounts, and More!
I'm giving away free SVG files to help you create for friends, family, and your home. Get all of these (and more) along with the weekly newsletter.
As an Amazon Associate, I could earn from qualifying purchases. There could be affiliate links within this article.
If you are new to making items with your cutting machine or don't even have a Cricut or Silhouette, here are a few notes on how to use these Spring designs.
If you can, use the SVG file type in cutting machines. It will cut the fastest and cleanest. Additionally, you will be able to manipulate layers into different colors easily, as well as group / ungroup elements.
When using Silhouette basic edition, upload the DXF and know that it will cut very slowly (nothing is wrong, that's just what happens).
For print then cut or sublimation, upload the PNG. Note that any alterations are limited due to this file type.
Ideas on Ways to Use Spring Cut Files
My favorite projects are usually fast and easy ones. I usually keep a few blanks on hand and order a few at a time because there's always something I forget about until the last minute.
tote bags – From librarian and teachers presents to creating my own gift bags, I love making tote bags and have ordered this set of tote bags three times (note: do not wash them). They're also ridiculously easy to press because they have a lot of flat surface area, making them a great beginner Cricut project (or Silhouette).
grocery bags – We customized a funny set of grocery bags recently and I honestly chuckle every time I pull them out of the trunk. I bought these grocery bags and am really impressed – and you'll be a conversation starter if you put fun or punny sayings on them!
mugs and tumblers – I love the weight and heft of the Cricut mugs but use Dollar Tree mugs in gift baskets all the time. Tumblers, however, are one that I always spend a bit more money on because I believe the difference when using becomes very apparent in the price. I usually buy double-walled stainless steel tumblers.
shelf sitter blocks – Whether I'm making them large for a book case or smaller for tiered trays, I use a lot of wood blocks I cut or pick up from the Dollar Tree and repurpose.
glass jars – Use the Dollar Tree for mini glass vases – they are perfect for permanent vinyl projects. When working with mason jars, however, I usually buy them here in bulk (I also use the 32 ounce a lot).
More Spring Cut Files You Might Like
Bee SVG Files – Free and Premium
The bee SVG collection here at Ruffles and Rain Boots has become quite popular. I love seeing people share their creations with me and have seen vases, tiered tray signs, wood cutouts from the Dollar Tree repurposed into signs, and so much more.
I've recently made a few of these free for everyone (no sign up needed), so click to check out the bee SVG cut files I've created for our Spring crafts.
Easter SVG and Design Cut Files (Free and Premium)
I'm such a last-minute crafter (your gal is great in crunch time) but if you're prepping crafts for Spring, you might already be working on Easter. Check out these free Easter SVG and clip art files here.
Know a Crafty Friend Who Would Love These?
Your shares are how this site grows and I am sincerely grateful. Please save this spring svg free files collection to a pin board, email it to a friend, or share it to a crafting group on Facebook.