Make This Amazing Sponge Rock Painting in a Minute
One-stroke sponge rock painting is such a fun rock painting idea for kids. Even the youngest rock painters can benefit from this rock painting 101 technique! And the best part is that you can do any design, any color combination, and any size rock!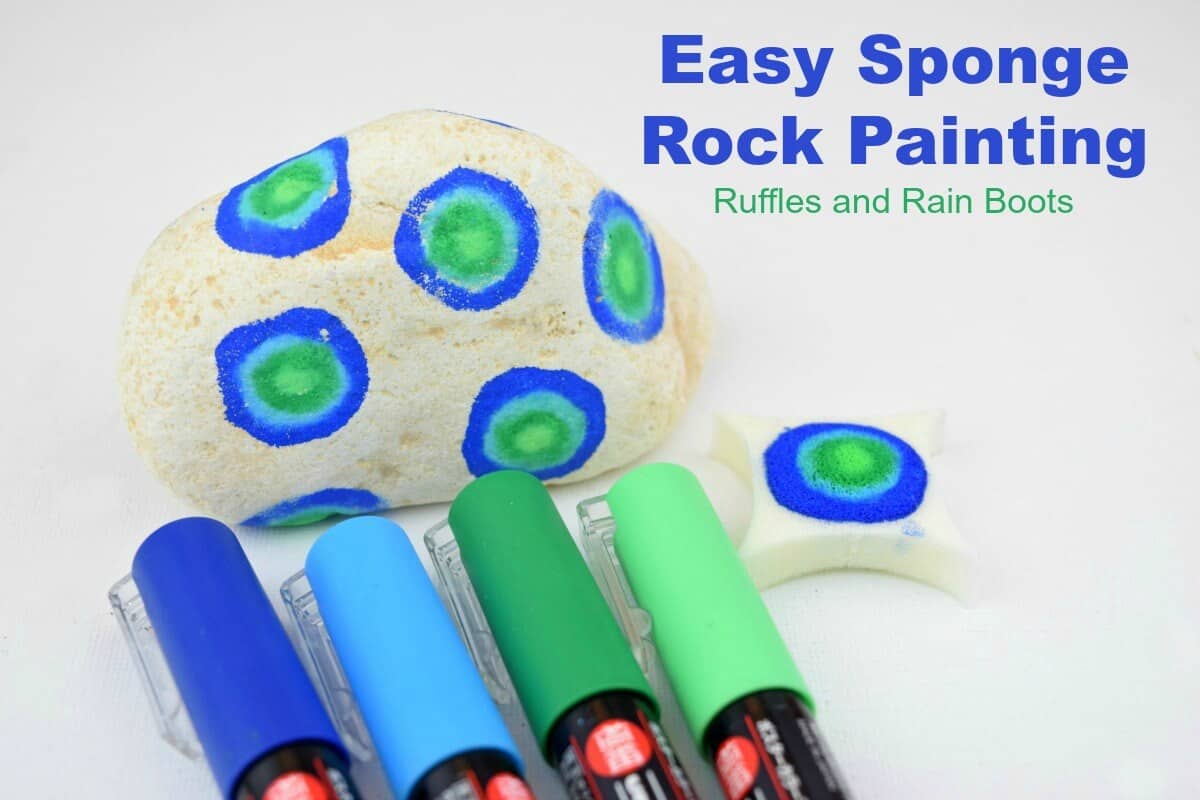 There are affiliate links in this article which means, at no additional cost to you, we could receive compensation for our recommendations. You can read our full disclosure policy.
What You'll Find On This Page
Rock Painting with Sponges: The Theory
If you're as obsessed as I am with video learning, you've likely gone down the rabbit hole of YouTube's painting videos.
I go to YouTube to learn how to repair a piece of tile I broke (oops) and end up 4 hours later wanting to make a raised garden bed. #truestory
During one of these YouTube black hole time-sucks, I came across a technique called one-stroke painting. This isn't the first time I had come across this technique, but after watching 4 or 5 of these videos, I had the idea to try it with my daughter.
SPOILER ALERT: it failed. It failed miserably.
Sponge Rock Painting for Kids
I won't ruin the surprise for you but basically, one-stroke painting is the loading of a brush with multiple colors and well, using only one stroke to create an object. It worked for me but as I said, failed with my 6-year-old in fantastic fashion.
Because she felt poorly about it, I wanted her to have a win and came up with this sponge painting idea for her. It's ridiculously simple and she had a BLAST.
She did this for more than an hour! This one is her favorite because she thinks it makes a good addition to her camping story stones.
RELATED READING: Fun Weather Story Stones for Kids
Supplies for Painting Rocks with Sponges
Any acrylic paint will do for this project (shown in the video), however, you will have more control over your design with paint pens. See the section below on painting with paint pens and this method.
As far as sponges, we tried two: a kitchen sponge and a makeup application sponge. Both are very inexpensive and don't have a lot of holes, so they both worked well.
We found more control with the makeup sponges, so for more intricate designs use those.
RELATED READING: Make This Adorable Kawaii Stone Using ONLY Circles!
One-Stroke Sponge Rock Painting
I've included a video tutorial below (it's a short one, but this rock painting activity packs a LOT of punch).
Sponge Painting Using Paint Pens
If you don't want to give your little one loose acrylic paint, our favorite paint pens worked like magic! I didn't have high hopes for this but decided to test it anyway – it worked so well.
The target image above is my daughter's favorite and for it, she used just a scrap of sponge.
Watch the One-Stroke Sponge Painting in Action!
In this ridiculously short video, you can see how easy it is to make this happen.
Over to You
Will you try this? I was impressed at how easy and well the designs turned out for myself and when I shared the theory with the kids.
Speaking of sharing, would you please share this on Facebook or save it to your favorite Pinterest rock painting board? Your shares are how we grow and we are sincerely grateful.