This Marshmallow Catapult is a Fun STEM Activity for Kids
This marshmallow catapult is a fun STEM activity for kids! To be honest, I've always wanted to make a catapult myself and this kid-made catapult is awesome.
Marshmallow Catapult
Here at Ruffles and Rain Boots, I have come up with some awesome July 4th activities, like fun flag wands and paper fireworks. But, far and above, the best July 4th kids activity that has engaged the kids the most has been this marshmallow catapult.
This STEM craft is easy to make but the elements fun to change, making it a great learning tool. The kids around here played with it forever and was one of the best ways to keep them engaged with a little summer science fun. Let's get started.
No Time to Make This Now? Pin it for Later
Pin this to your favorite STEM activities board on Pinterest and it'll be here for when you're ready.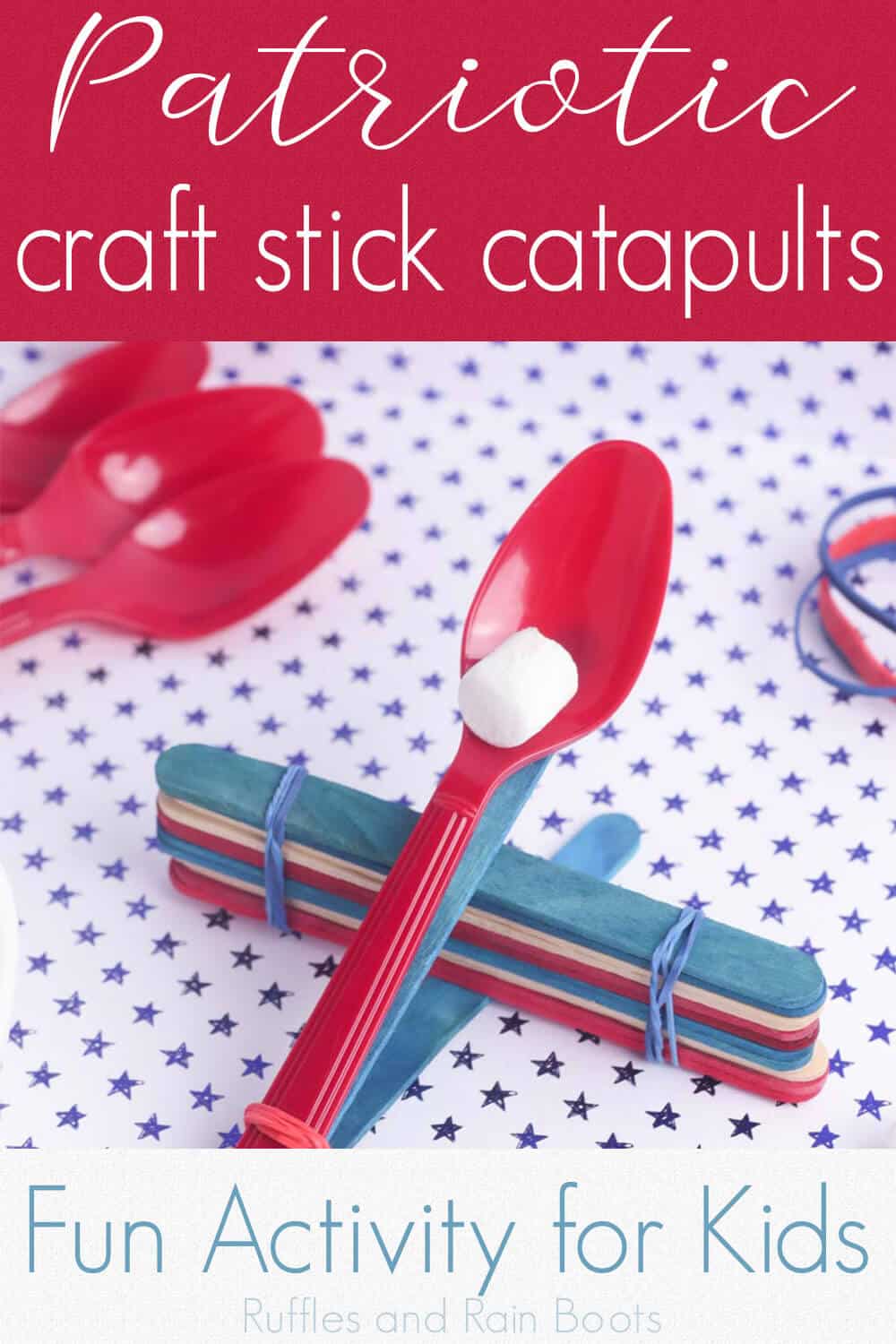 Tips for How to Make a Catapult
All rubber band sizes will work but be sure to choose a strong one. Let the kids do the wrapping with the rubber bands if at all possible to help work on those fine-motor muscles!
Add more fun STEM elements by:

discussing with the kids how to make a catapult with other materials.
having the kids adjust the rubber band (the pivot point) and measure how far they can toss a marshmallow based on those adjustments.
having the kids fling the jumbo marshmallows and the miniature ones to see which ones fly farther.
having the kids aim their marshmallow catapult at a cup and try to get it in (and what adjustments they have to make to get it there).
As an Amazon Associate, I could earn from qualifying purchases.
How Do I Make this Marshmallow Catapult?
I'm so glad you asked. Below is our written tutorial to make this fun craft. Psst: you should make one, too, and join in on the fun.
If you're making a STEM projects playlist on YouTube, here is our marshmallow catapult video tutorial.
More July 4th Kids Craft Ideas You Might Like
Flag Wands – This is literally hours of fun for kids. Don't ask. They just love wands and fluttery things.
Paper Fireworks – This is the PERFECT craft for those kids that are a little afraid of real fireworks.
Marshmallow Launchers – If you're going to make a marshmallow catapult project for kids, you should probably also make these awesome launchers.
Please Save This to Pinterest
Your shares are how this site grows and I am sincerely grateful. Know a friend who'd like this? Please share it on Facebook or save it to your favorite catapult project for kids board on Pinterest.