Manly Shower Fizzies – Rough and Rugged Recipe
For the manly man that wants a little fun in his bath or shower, too, we came up with these manly shower fizzies. They're the manly bath bomb he's been waiting for.
Manly Shower Fizzies
Here at Ruffles and Rain Boots, we are a little addicted to making bath bombs and shower fizzies. Who are we kidding?! We're TOTALLY addicted. Between making allergy relief shower fizzies and all of the fun that just comes with making all the bath bombs ever.
And I love to share my shower fizzies with the hubby, but he asked for his own manly bath bombs, so I took a whack at making these manly shower fizzies. They're pretty cool, if you say so myself.
These manly shower fizzies are also long lasting. Our mix of scents combines sandalwood with mint to produce a "non-girly" aromatic shower. The rough-hewn look of them just screams, "I don't need to stop and ask for directions!" LOL!
Let's get started.
No Time to Make This Now? Pin it for Later
You're busy, I get it. Pin this to your favorite manly shower fizzies board on Pinterest and it'll be here for when you're ready.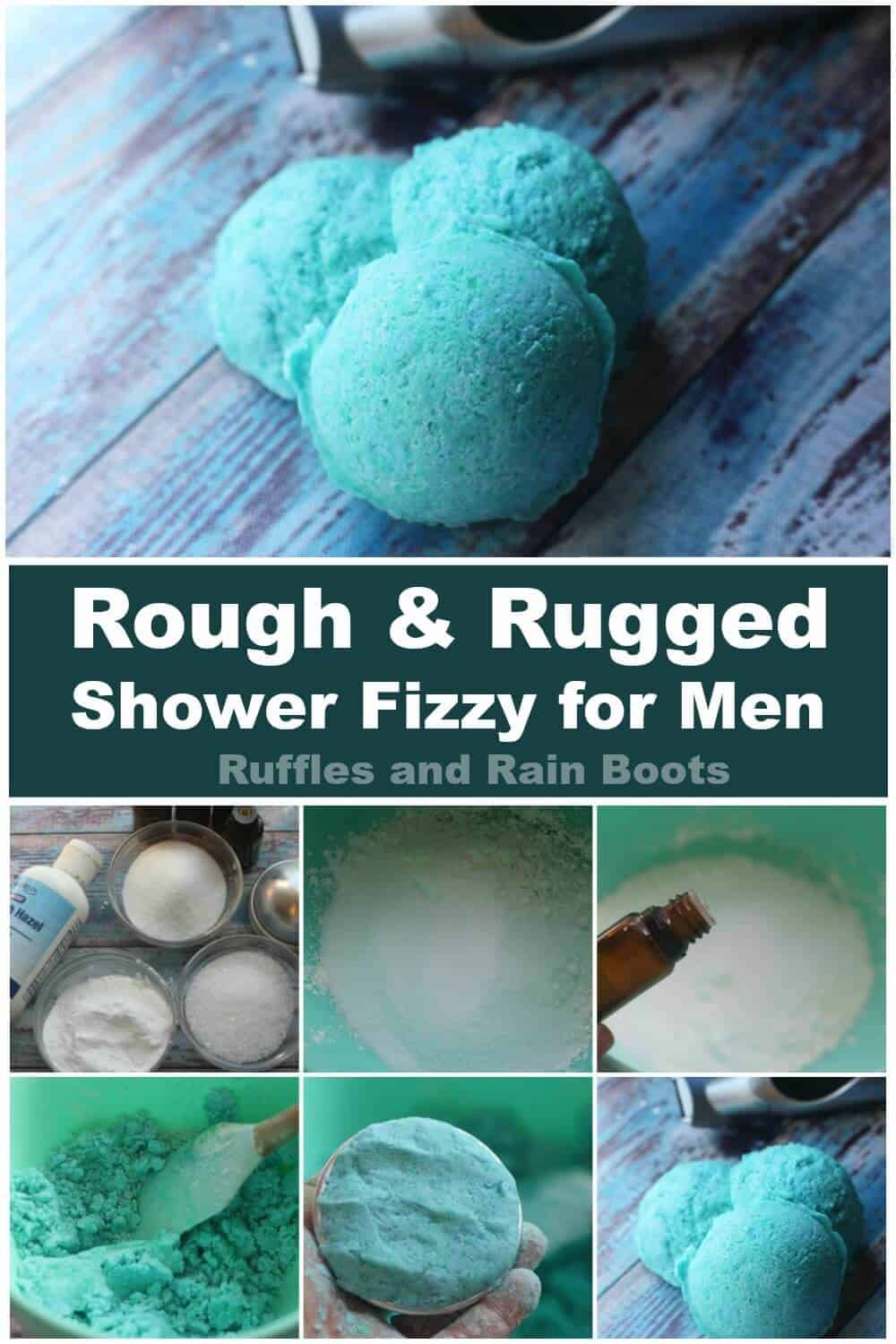 Tips to Make a DIY Bath Bomb for Men
Remember to store them in an air-tight container. They're not much use if they get wet before you can get in the shower with them.
When you're ready to use them, place one melt in the shower out of the direct spray but where it will get wet. The scent is released as the water breaks down the mix.
To turn them into manly bath bombs instead of manly shower fizzies, just use a round bath bomb mold instead of a flat-bottom one. Simple.
How Do I Make this Manly Shower Fizzies?
I'm so glad you asked. Below is our written tutorial and if you have any questions, please let me know in the comments.
More Bath Bombs You Might Like
Decongestant Bath Bombs – Break-up congestion with a little shower fizzy recipe that's so handy, you'll want to make them just have them ready for the sniffles.
Lemon Vanilla DIY Bath Bombs – It's not as girly as it sounds, but if he likes the manly bath bombs, he might enjoy a little lemon action, too.
Allergy Shower Fizzies – When your dude needs some help with the allergies, he might like a little shower fizzy to help make it all stop.
Please Save This to Pinterest
Your shares are how this site grows and I am sincerely grateful. Know a friend who'd like this? Please share it on Facebook or save it to your favorite manly shower fizzies board on Pinterest.