Chocolate Mint Cake Mix Cookies
These easy chocolate mint cake mix cookies are what should fill the cookie jar this week! The mint flavor cuts through the sweetness of the chocolate in just the right way.
What do you do when you need to make cookies but don't want to make them from scratch but hate to serve store-bought? Cake mix cookies! They taste just like they are from scratch but take half the ingredients and time.
RELATED READING: Cake Mix Cupcakes Recipe – Fast, Easy, and Delicious
What You'll Find On This Page
Cake Mix Cookie Recipe
Here at Ruffles and Rain Boots, I love a decadent chocolate treat. But sometimes, I want it the easy way and I reach for a cake mix. Boxed cake mixes are always in my pantry – when I use one, I immediately add it to the grocery list.
But the cake box mixes always need some "jazzing up," otherwise, they end up tasting like everyone else's desserts. When you add the chocolate mint chunks to the mix in this recipe, you have a winner. Be careful, they are irresistible.
No Time to Make This Now? Save or Share
Need to grab a chocolate cake mix before you can make these delicious chocolate mint cookies? Save this to your favorite food or dessert pin board or share it on Facebook. Using the sharing buttons makes it easier when you are ready to start this easy cookie recipe.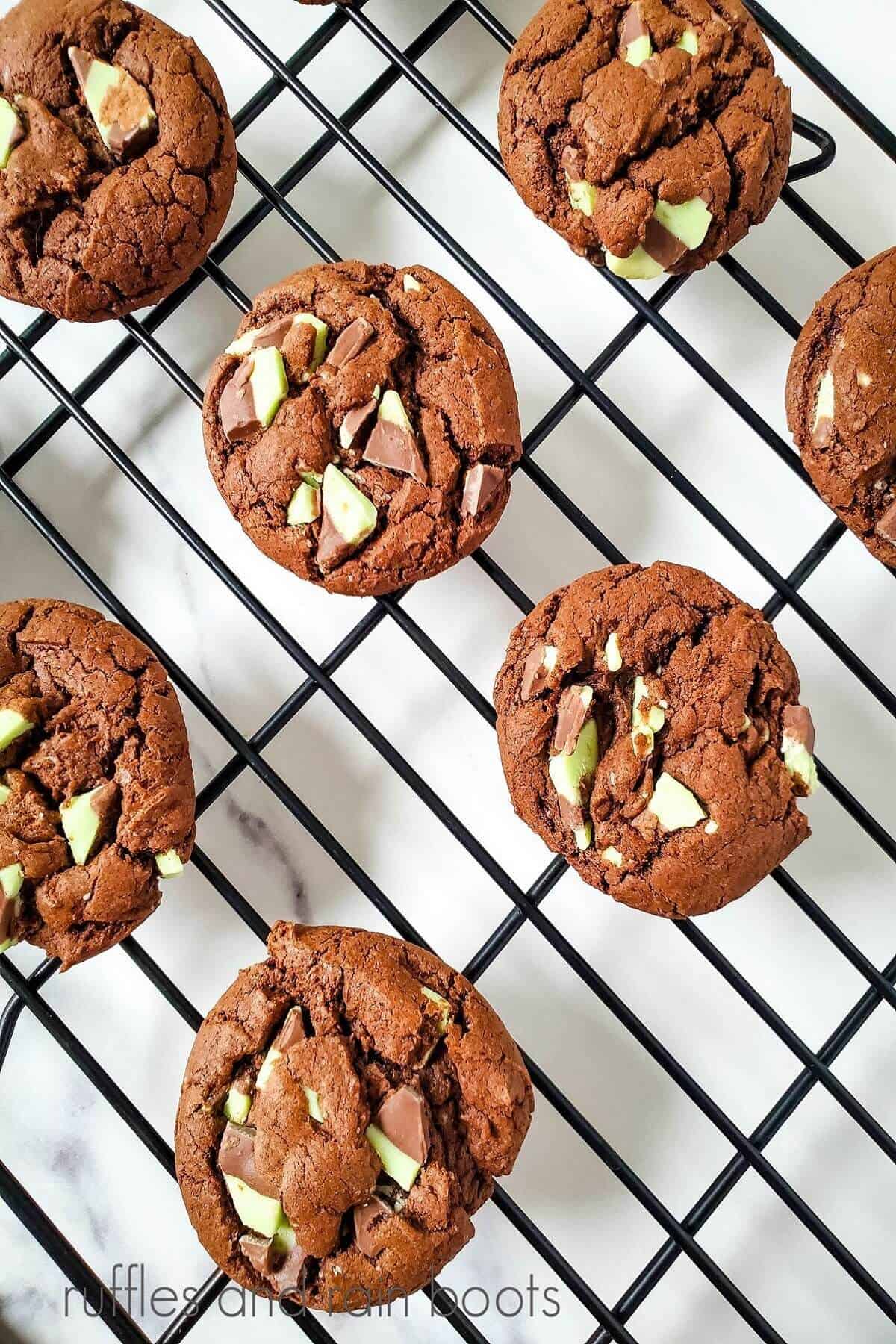 As an Amazon Associate, I could earn from qualifying purchases. There may be affiliate links within this article.
Tips for Making Cake Mix Cookies
For a smoother cookie, before adding in the wet ingredients, whisk away the lumps in the cake mix.
If a chocolate cake mix is too sweet for you, add a few tablespoons of sour cream. It balances the sweetness and makes for a softer cookie.
Place the cookie dough in the fridge for about 15 minutes to more easily scoop the mixture onto the pan.
To keep the cookie dough from sticking to the ice cream scoop, dip it into a bit of cocoa powder first.
Here are the Ingredients for the Chocolate Mint Cookies
Did I mention this was an EASY cookie recipe? You'll wow everyone, sure but look at the ingredients: SUPER easy.
Chocolate cake mix
Vegetable oil
Eggs
Mint Fudge Flavored Baking Chunks
How to Make Chocolate Mint Cake Mix Cookies
Each step for this cookie recipe is detailed below so it's easy to follow. Keep the page open while you are creating your chocolate cookie. If you would rather have a printable recipe, just scroll down and select the print button.
Preheat the oven to 350 (325 for dark or non-stick sheets). Add cake mix to a mixing bowl. Use a fork or whisk to remove any lumps.
Mix in the vegetable oil and add the eggs. Whisk it together thoroughly, but stop when everything in incorporated. For the best mint chocolate cookies, do not over-mix.
Add the chocolate mint chunks on top and fold them in (with a spoon). Again, mix only until the pieces are incorporated.
Add dough balls to a baking sheet and bake for 8-10 minutes. Cool completely before serving on a wired rack.
Notes for Making Chocolate Cake Mix Cookies
If the chocolate mint chips are too big, run your rolling pin over the package before using.
Instead of vegetable oil, you can substitute canola, sunflower, or even avocado oil.
For some added fat and flavor, add one ripe, smashed avocado.
Here are More Chocolate Recipes You May Like
Please Save or Share
Your shares are how this site grows and I sincerely appreciate it. Please save this cookie recipe to your favorite dessert or cookie pin board or share it on Facebook.