Make This Easy and Natural Unicorn Milkshake in Just Minutes!
Make this natural unicorn milkshake and have all the unicorn food trend fun without all the colorants. We've made this fun, colorful, healthy milkshake using our secret ingredient to flavor and naturally color fun foods for kids. Let's get started!
There are affiliate links in this article which means, at no additional cost to you, we could receive compensation for our recommendations. You can read our full disclosure policy.
What You'll Find On This Page
An All Natural Unicorn Milkshake
Usually bright, happy, and tasty treats, we think the unicorn food trends are just plain fun.
But have you noticed what's in some of them? LOADS of food colorants. Now, there's nothing wrong with that in small quantities, but we do try and limit it when we can.
Besides, you need to save that stuff for all the decoration on these fun milkshakes!
The Secret Ingredient to Coloring Naturally
My daughter is on Spring Break this week and for a sweet treat, we make this natural unicorn milkshake, flavored with freeze-dried strawberries and blueberries. My 6-year-old has so much fun using the mortar and pestle to grind up the fruit into a fine powder.
Ingredients for a Natural and Healthy Unicorn Milkshake
You probably have everything you need to make these unicorn milkshakes, friends. If you don't have a Trader Joe's near you (that's where we pick up our freeze-dried fruit), they have a three pack of mixed freeze-dried fruits on Amazon!
And although I popped in "healthy unicorn milkshake," let's all agree that this is a health-IER version of what's out there. There's no way this really classifies as healthy (unless you're talking about all the smiles it brings).
Vanilla ice cream
Your choice of milk
Optional Ingredients
How to Make a Unicorn Milkshake with Natural Ingredients
First, grind up the freeze-dried fruits into a powder, keeping them separated. If you don't have a mortar and pestle, a food processor or mini chopper work well.
If you want, make the ring around the glass by melting candy melts per the package instructions. Then, apply a thin coat around the top and add sprinkles. Let it harden.
We used a mini blender instead of the Vitamix for this because I was only making one milkshake for my daughter.
Let's talk about my AMAZING level of self-control here, friends. It was monumental.
We added a scoop of vanilla ice cream, a heaping tablespoon (and then some) of the freeze-dried strawberries, and a splash of milk. Once it was blended, we put it in the glass and moved onto the blueberry-flavored milkshake.
Once you add the blueberry milkshake to the strawberry milkshake, you can serve it as-is.
Just look at this beauty!
Add a Bit of Pizzaz to This Fun Unicorn Food!
My daughter saw this unicorn milkshake and said, "Let's add some stuff."
She chose cotton candy, white chocolate chips, and a myriad of sprinkles from her treat bin. She's 6 – life is all about sprinkles right now.
I ate the cotton candy. My monumental self-restraint only goes so far, friends.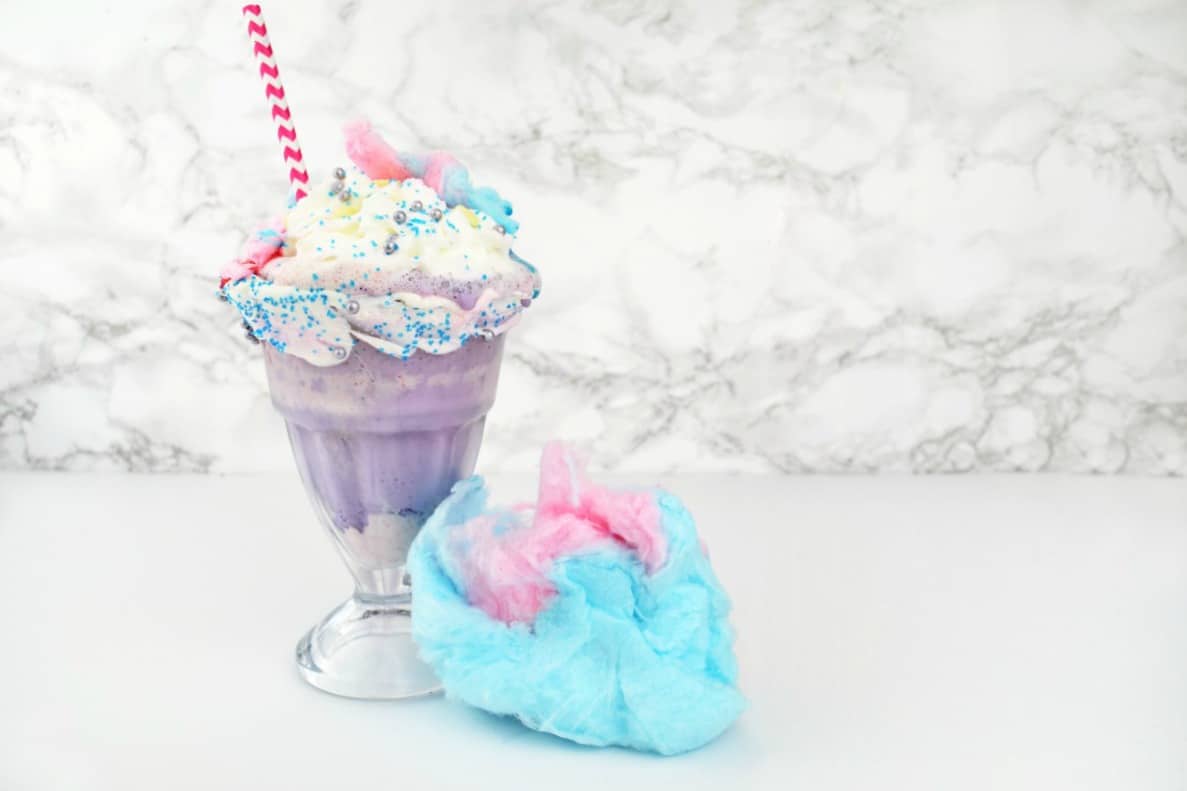 Over to You
Have you ever made a unicorn food before? We've made unicorn bark, too, which is RIDICULOUSLY easy!
Speaking of easy, would you mind clicking on one of those share buttons below? Your shares on Pinterest and Facebook are how we grow and we are sincerely grateful.