Ikea Hack: Lackluster Latt Table to Toddleriffic Table

Who would have thought this little Ikea Latt table makeover would become one of our most popular DIY tables? This easy tutorial will take you through the steps to create a padded chair cushion that fits the accompanying chairs.
Note that there are a lot of people who have used our tutorial to make these same upgrades to their table, and they are loving them! Some are even blogging about theirs as well, so you can search for more inspiration and easily find it.
What You'll Find On This Page
The Ikea Latt Table is Amazing for Toddlers
If you are where we were at one time, searching for the best table for your baby, toddler, preschooler or young child, let me save you any more looking: the Ikea Latt table is the best table for toddlers and young children!

This is a great kids table if you are looking for a separate space for your child(ren) to do crafts, have tea parties, read books, play blocks, and create impromptu caves. Or is that only our daughter who throws her biggest blanket over the tops of tables and crawls underneath?
We use it every day. Every. Single. Day.
I originally hacked this table when our daughter was too young for it, but starting when she was about 18 months, we have used it every day since. The only thing we've had to "maintain" is a tightening of the hex bolts once.
The Ikea Latt table is Inexpensive
It's cheap, people, cheap but surprisingly sturdy! Because of its price point, it isn't the end of the world if they wreck it, even though ours has easily withstood many, many, many hardships and is still going strong. This little thing shows no dents, no stains, and no trauma.
The Ikea Latt table can easily be customized.
Anything your decor throws at it (be it living room, play room, or garage), this little guy can handle it! Our tutorial below even shows how to make a padded seat for chubby little kid legs. We wouldn't want those chunky little thighs to have any discomfort, right?
It's Ikea, so it's easy!
Even if you've never done a DIY project before, this sucker is so easy to put together and customize that even I could do it!



Our daughter's nanny first introduced us to this table and before we purchased – like everything else in my life – I did some recon. It seemed like a screaming deal at $19.99 for two chairs and a table, but… Well, I took Elise to Ikea to test out the Latt table.

Even the display model was sturdy and you KNOW how much those things get crawled all over. The only problem was that it is very simple. And plain. Actually, very plain.

And kind of boring. The worst part is that the chairs looked really uncomfortable. Our little girl had some chunky toddler thighs and it just seemed that there was something that could be done.

So I did something.
How to Hack an Ikea Latt Table for Playrooms
I changed it up a bit with some dark stain and added a padded chair seat. Every piece of furniture in our house is dark wood and I knew I could easily alter this little thing to match.

Note: The table and chairs are made of pine wood and it sucked the stain in. It took three coats of a very dark stain to get it this espresso brown. There are some tutorials on the net about spray painting it, but I am leery of that method because I didn't want any drips.
The final tip is regarding the Plexiglass – Do. This. I. Beg. You! It has saved us so many times. It is so easy to go to a home improvement store and get this cut to fit the table (the nicks my husband made aren't necessary). A friend did this without the nicks in the corners, and it works as well as ours!
Reader Comments and Suggestions for This Ikea Latt Makeover Project
Because we lost most of our comments when we moved the website, I'm going to put some notes here which many found valuable.
There are tutorials on the web that readers brought to me to state that adding plywood was necessary to make a padded seat. We have had this table for 4 years (I wrote the tutorial up WELL after I made it), and the only thing we've had to do is tighten the screws.
Another item readers brought to me was that quilt batting had to be used because anything else was "too thick." I used 1-inch thick foam from the craft store and it works PERFECTLY! A friend used a thinner foam and it fell flat – so flat that you can barely tell anything was used. Because I don't believe in doing anything twice, I will take this time to urge you to use the 1-inch thick foam.
Tutorial #1: Ikea Latt Table
Before you assemble the table and chairs, stain (or paint) each piece. If your table is already put together and is rocking it's "I'm so fabulous as pine" look and you want to stain or paint it now, you might want to think about taking it apart instead of making the updates to it assembled.

Just think about it. You might tell me to pound sand and that's okay – it's your choice.

Once stained, assemble the table as instructed by Ikea. Or, as in my case, ask your husband – very nicely – if he will help you put it together. Then leave him alone to finish it.
Tutorial #2: IKEA Latt Table Padded Chair Cushions
The chairs were a bit trickier than the table.
I mocked up a prototype for an Ikea LATT cushion (see my pine wood chair with a pink, striped fabric seat without any hardware), making sure that the foam and fabric would still allow the chair to be put together. It did, so I proceeded.



I cut the craft foam so that it was just shy of the seat edges that slide into the outer chair pieces.

If you're a visual person like I am, see the picture I hacked up at the left.

You want the foam inside the wood slats when it's assembled.
After your foam is cut, you will affix it to the seat piece with a small amount of spray adhesive or glue. Once it has set, cover the seat with the fabric and hot glue each side of the fabric to the chair. I folded my fabric over, making a trapezoid. I'm not sure this was necessary, but hey – it's what I did.

Because I have trust issues with hot glue, I also secured two of the sides with some khaki colored duct tape I had on hand. Again, I'm not sure this was necessary, but hot glue has burned me before.

Get it? Burned by hot glue? Moving on.

The underside of my chair, once assembled, looks like this.

In true Ikea fashion, all pieces fit with just a little wiggle-room. Now listen, you cannot put the chair together following the directions that come with the Latt table because the fabric is in the way. I wiggled the pieces around, pushed as hard as I could, and then pounded it with a shoe (seriously, I did) in order to get the fabric-covered chair seat into the little slats.

Although my husband questioned my method of tools, the flat-bottomed shoe worked perfectly. If you have one of those soft, rubbery-like hammer things – can you tell I can't remember what they're called? – you could use that. And there you have it: a simple tutorial to add a padded seat for the Ikea LATT table's chairs. Now, your little one's bum will have a nice cushion!
We've added a few additional elements to our table throughout its time at our house, so I thought I'd mention those here.

Get a Plexiglass Topper Cut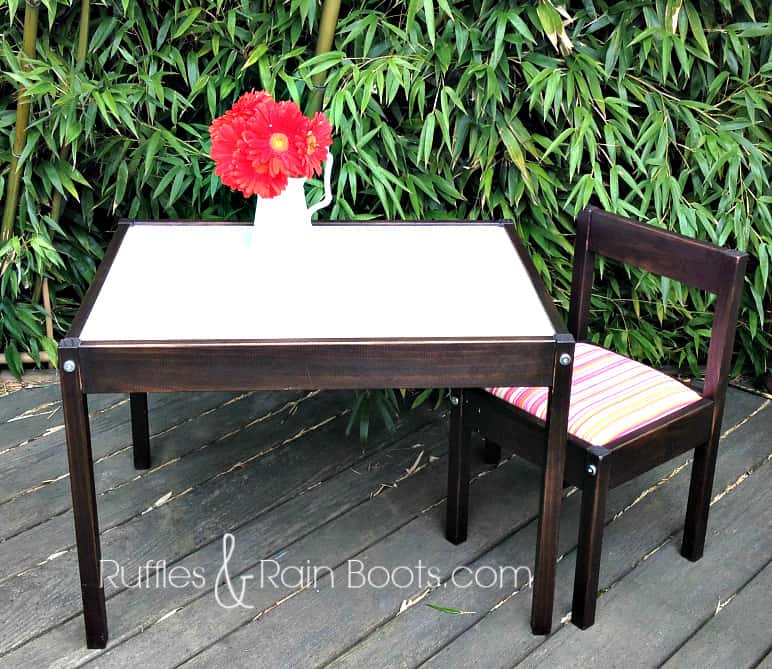 To keep the table top looking pristine – I know, a lesson in futility with a rambunctious toddler using it for crafts – we added a Plexiglas topper, cut to the size of the assembled table top. My husband cut out little notches near the four corners to get a really tight fit, but you don't have to do that.

If you don't have someone who can cut Plexiglas in your basement like my husband, someone mentioned that home improvement stores will cut Plexiglas to your specifications. Handy, right?

Another design / party / holiday addition we've made is to put wrapping paper or ribbons under the Plexiglas to help us celebrate. It is so easy and the kids just love it!
Other Ways to Hack an Ikea Latt Table
Here are a few things we've done in addition to decorating under the Plexiglass.
paint the top with chalkboard paint

add on a paper tear-er thing and a roll of craft paper like the fabulous Justine at "You're So Martha" did

here; tutorial included

glue some Lego plates down on the top to create a Lego play table

make a dollhouse stand perfect for the kiddo
add your child's friends under the Plexiglass (using coloring pages) or use the same method to display their art projects
If you have any questions, please leave me a comment and I'll try to help you out.
Update: A few people have emailed me with a link to someone who has a tutorial that follows this exactly. In those emails, all three stated that I should contact the blog about copyright infringement and/or duplicate content with Google. While I appreciate that you are looking out for Ruffles and Rain Boots (insert a big 'ol virtual hug here), there is no such infringement. As there are no images or text taken directly from this website, the author has done nothing wrong.
As is the nature of blogging and the Internet, people choose what they put out there, and that includes whether or not they cite any sources of inspiration. My position on this is that I can only control what I do in this world. Again, I thank you all for thinking of Ruffles and Rain Boots!!
I can't stress enough the love we have for these tables and our eyebrows are still raised, years later, at how well it's held up with kids climbing all over it.
Please Save This to Pinterest
Your shares are how this site grows and I am sincerely grateful. Please consider saving this fun repurposing project to your favorite DIY board on Pinterest.