Ways to Letter D – Free Hand Lettering Practice Sheets
Here is a ton of ways to letter D with a free hand lettering practice set. Learn new modern calligraphy and brush lettering styles to keep practice fun!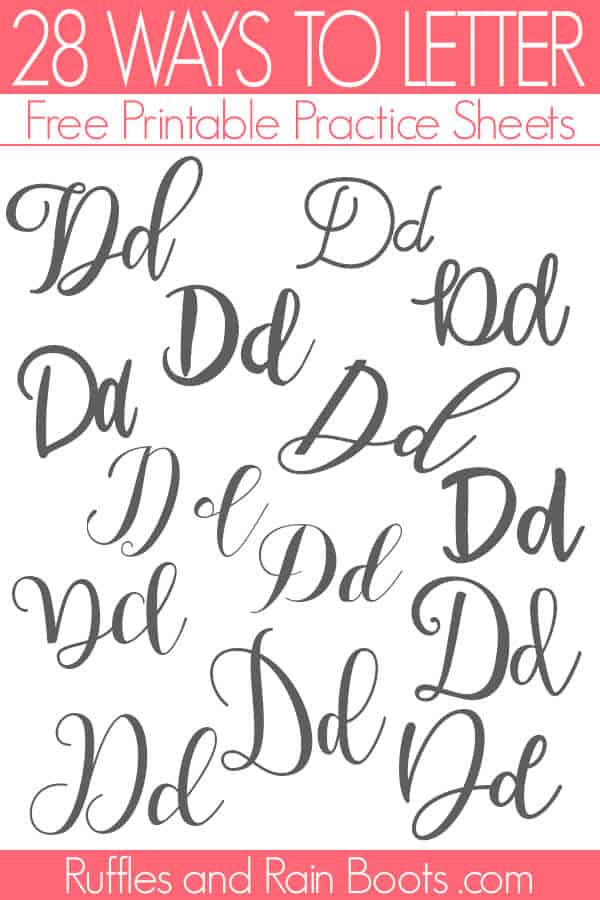 Ways to Letter C – Free Lettering Practice Sheets
If you're new to Ruffles and Rain Boots, I love to share free hand lettering practice sheets. I get it – it's easy to lose focus on this hobby because to get better, you need to practice, practice, practice. And let's face it, practice can become BORING.
That's why I create so many fun practice sets like this unicorn hand lettering set or this mermaid lettering practice. Be sure to check them out! This set of 5 pages includes both small pen and large pen lettering practice for 28 ways to letter D. You can practice this set anywhere by printing out the free PDF.
Did you know I have a best-selling lettering series here! When you subscribe, you'll get a coupon – use it, girl.
No Time to Work on This Now? Pin It for Later
Kids climbing on you? Boss breathing down your neck? :) Pin this to your favorite hand lettering board on Pinterest and come back to it later.
As an Amazon associate, I could earn from qualifying purchases. See our full disclosure policy.
RELATED READING: Free Uppercase Letter A Practice – SO MANY STYLES!

Tips for Practice – Ways to Letter Series
I'm going to be sharing the entire in a "ways to letter b" way, and I have tons of tips to share.
I've included both small and large pen practice, so grab: 
Use the blank sheet provided for additional practice. 
Hold your pen, no matter what size, at an angle so the brush does the work. 
When pressing down, make sure you're not holding tension in your wrist. If you're holding the pen correctly, it doesn't take much pressure to get those thick downstrokes. 
How to Download the Letter C Practice Sheets
If you are already getting the Ruffles and Rain Boots newsletter, you have the password you need at the bottom of every email I send. Just go to the Lettering Library, type it in, and scroll to the "Ways to Letter" section.
If you don't have access yet, sign up for the once-weekly email here. You'll receive an email you MUST confirm (to comply with all domestic and international marketing laws, you must click to confirm your subscription). If you don't receive the email in a couple of minutes, check your spam folder.
Please Save This to Pinterest or Share on Social Media
Your shares are how this site grows and I am sincerely grateful.