Free Gnome Coloring Pages – Printable or Digital
There are so many free gnome coloring pages for kids and adults. Download these fun coloring sheets which include hand drawn and adorable all the way to involved and intricate.
Choose from cute gnome adult coloring pages, by holidays, or by events and don't worry – these are free, do not require a sign up or anything. You can be coloring in just minutes on paper or digital coloring apps.
What You'll Find On This Page
Gnome Coloring Sheets
Here at Ruffles and Rain Boots, I'm a bit gnome obsessed. Seriously, if you've been here more than 20 seconds, these cuties have probably already introduced themselves. I love making gnomes for decor, tiered trays, gifts, and well, for anything else I can think of!
Be sure to save or share this to find it easily later. I will be adding more gnome coloring pages all year long!
RELATED READING: Free Printable Cupcake Coloring Pages
How to Download These Gnome Coloring Pages
To make things easy and get you (or little ones) coloring in just minutes, scroll down to the set or sets you want. Click on the link and open the file. You should see it open in Google Drive.
From there, you can use the print options on the screen (hover if on desktop for the on screen menu to appear). You can also download these coloring sheets to your personal device or drive.
Gnome Coloring Pages for Adults
If you want to partake in a bit of coloring relaxation, this set is perfect as it contains more intricate drawings and might be too difficult for very young artists. From simple to a bit harder, you will all get fun out of this set.
Download the set of free gnome coloring pages for adults.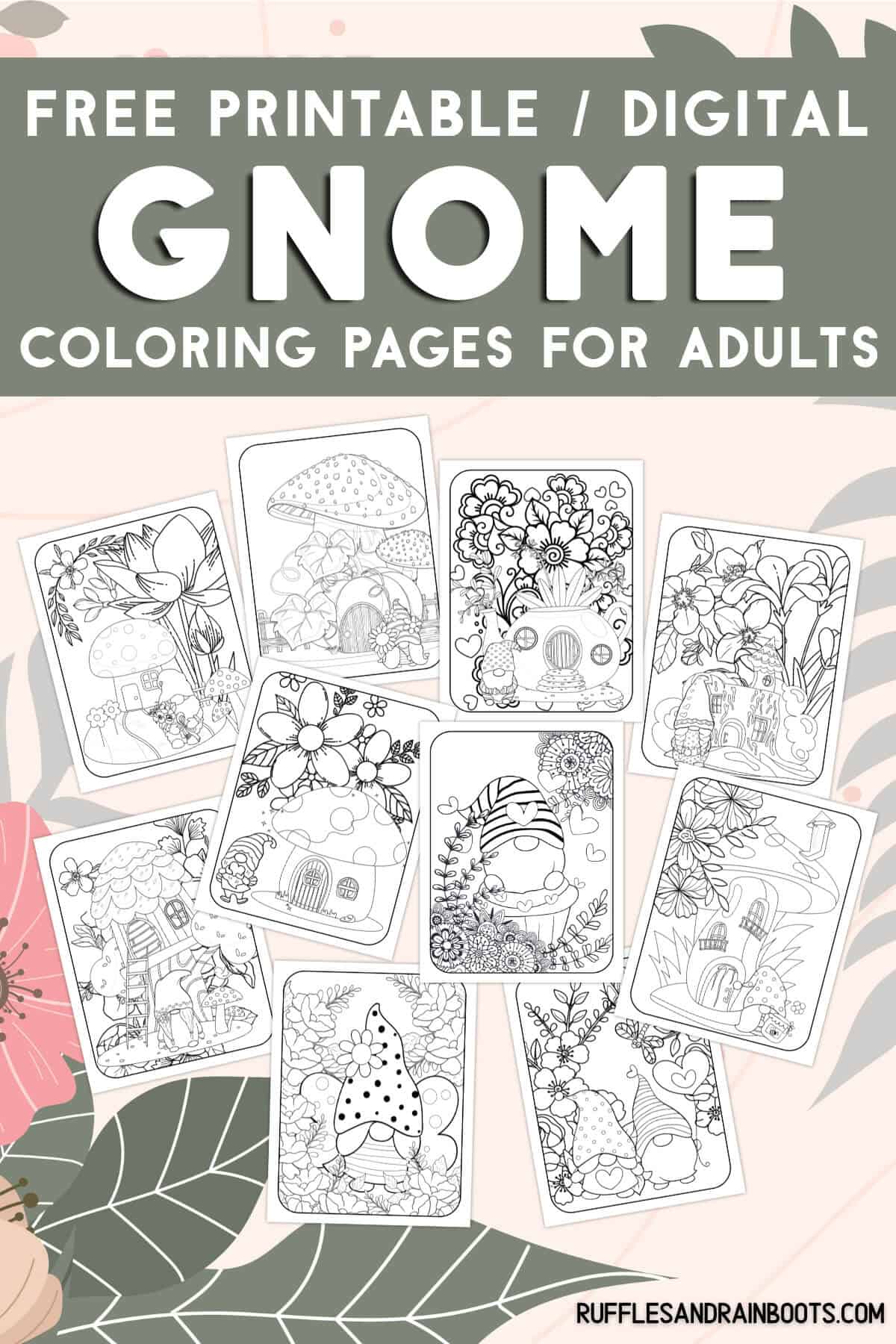 Free Valentine's Day Gnome Coloring Sheets
Designed for children, these free Valentine's Day gnome coloring pages highlight sweet sentiments and gnome puns with 6 different scenes. Is there a better combination?
Download the Gnome Coloring Pages for Valentine's Day here.
St Patrick's Day Gnome Coloring Pages
Another one for little hands, this set of 10 St Patrick's Day gnome coloring sheets are sure to please. Everything from pots of golds to mushroom homes are included in this big set.
Download the free St. Patrick's Day gnome coloring sheets here.
Easter Gnome Pages
Print off this set of 10 Easter Gnome coloring pages for kids and the giggles and joy will filter up from the arts and crafts table. Featuring gnomes in bunny hats, eggs, trucks, and adorable chicks, this is a light-hearted set.
Download the free Easter gnome coloring sheets here.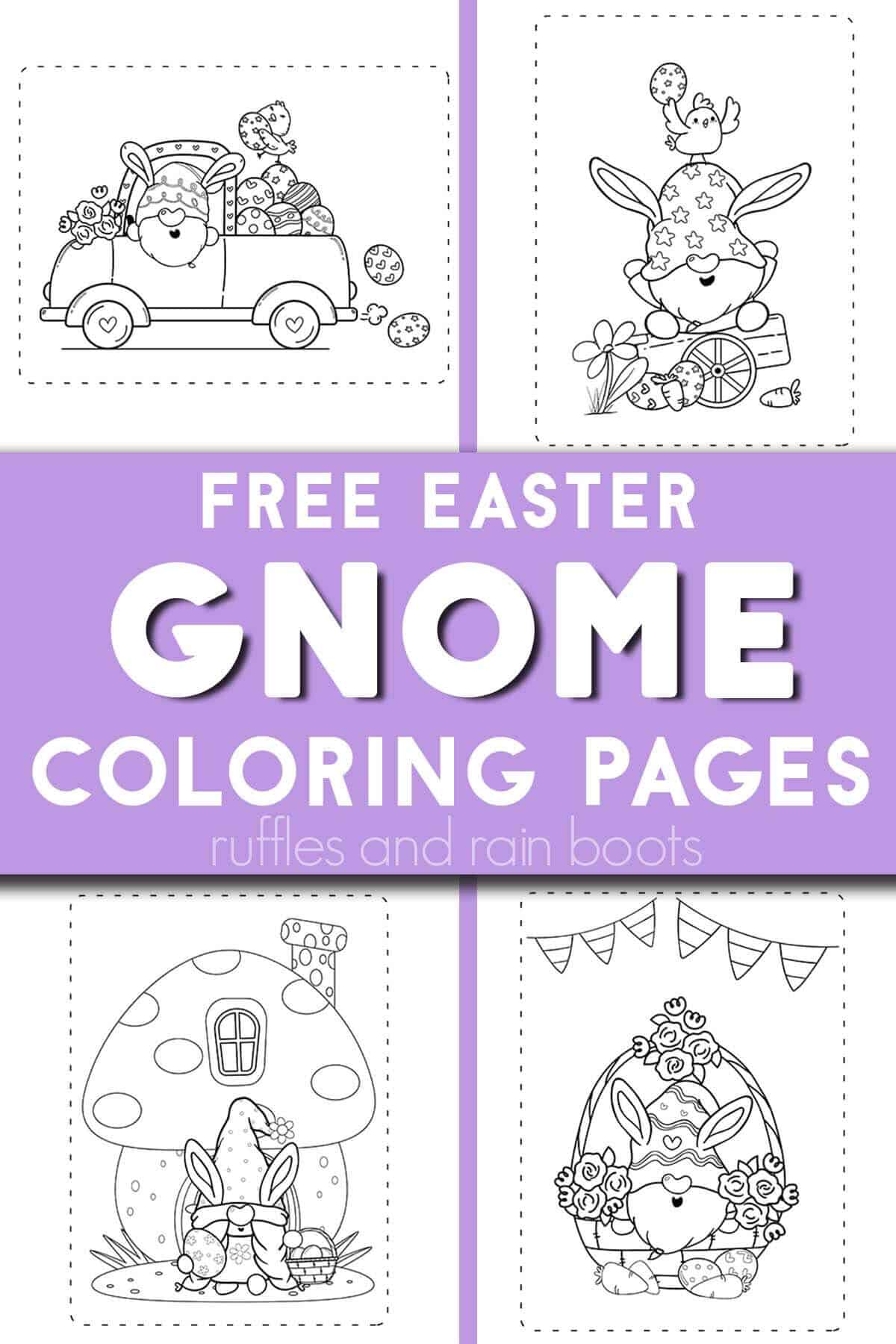 Summer Gnome Coloring Pages for Adults
If you are ready for warm days and long nights, these 10 coloring pages are going to satisfy that itch for summer. These have a lot of visual interest and stimulating coloring options in both printable and digital coloring page formats.
Download the free summer gnome coloring sheets here.
Summer Gnome Coloring Pages for Kids
We can't forget about the little ones (or those of you who like to get REALLY detailed in your coloring). Here are another 10 gnome coloring pages for kids to bring out that creative streak.
Download the free summer gnome coloring sheets for kids here.
4th of July Gnome Coloring Pages
This full set of 10 free coloring sheets featuring gnomes and patriotic fun is perfect for your Independence Day party. The little ones (and kids of all ages) will love to cool down with this calming coloring activity.
Download the free 4th of July gnome coloring pages here.
Fall Gnome Coloring Sheets
From tasty warm drinks to sunflower blooms, welcome in the season with these five free gnome coloring pages. These are simple enough for kids to color but have enough interest for adults. Note: digital files are JPG, not PNG.
Download the free fall gnome colorings pages here.
Free Halloween Gnome Coloring Sheets
Keeping spooky to a minimum, these Halloween gnome coloring sheets are going to entertain as much as they will bring creativity to the day. Download the free (adorable) coloring sheets below.
Download the free Halloween gnome colorings pages here.
Free Christmas Gnome Coloring Pages
This is a small set of four line drawn gnomes with small accessories. I digitally colored this one on Procreate, printed it, and then used it as a last-minute Christmas card.
Download the mini free Christmas gnome coloring sheet set.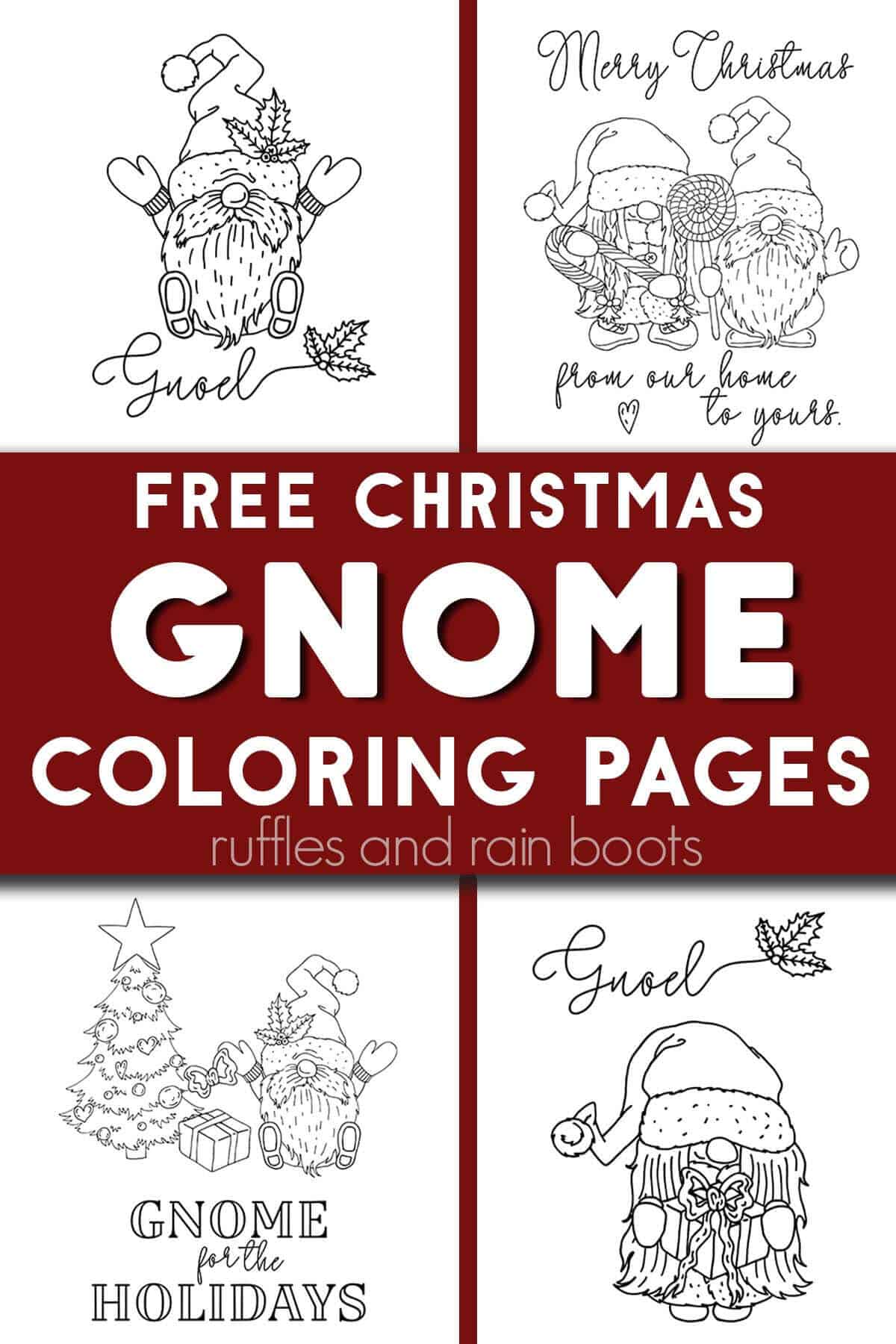 How You May Use These Free Coloring Pages
Printable Coloring Sheets or Digital Coloring Pages
Some of the coloring pages I share will include two sets of files: PNG or JPG and PDF. Use the individual files to enter into a digital coloring app and color your heart out without mess. If you want to print, open the Full Set PDF version and print or save from your device. You may choose to print single or multiple pages.
Everything provided on this page is for personal use only. You may print and distribute to your family members, baby sitting charges, scout troops, and library patrons.
You may not post these files anywhere on the Internet, on forums or exchanges, or any marketplaces. Ruffles and Rain Boots' content prohibits any resale or electronic sharing and either violates the terms of use. If you have questions, please contact me.
Please Save or Share This
Your shares are how this site grows and I am sincerely grateful. Please save this to a coloring page pin board or share to a crafty Facebook group.