These Easter cupcakes range from elegant to adorable, but all have one thing in common: they are easy to make and will impress everyone!
Easter Cupcakes
Here at Ruffles and Rain Boots, I love to share easy and fun cupcake decorating ideas. Cupcakes are my perfect treat for a few reasons:
I can snack on one (instead of an entire cake…)
the sky is the limit when it comes to designs
who doesn't love a cupcake?!
Some of our Easter cupcakes feature icing as the star and others will make use of some unique decorating partners. Take a look and let me know your favorite Easter cupcake in the comments.
Easter Crafts and Decor
If you're on the hunt for Easter crafts for kids, Easter decor, or fun Easter extras, visit our Easter crafts page here.
Not Making These Now? Pin This for Later
On this page, you'll find some adorable and some elegant Easter cupcake decorating ideas. Save this to your favorite Easter board on Pinterest for when you need it.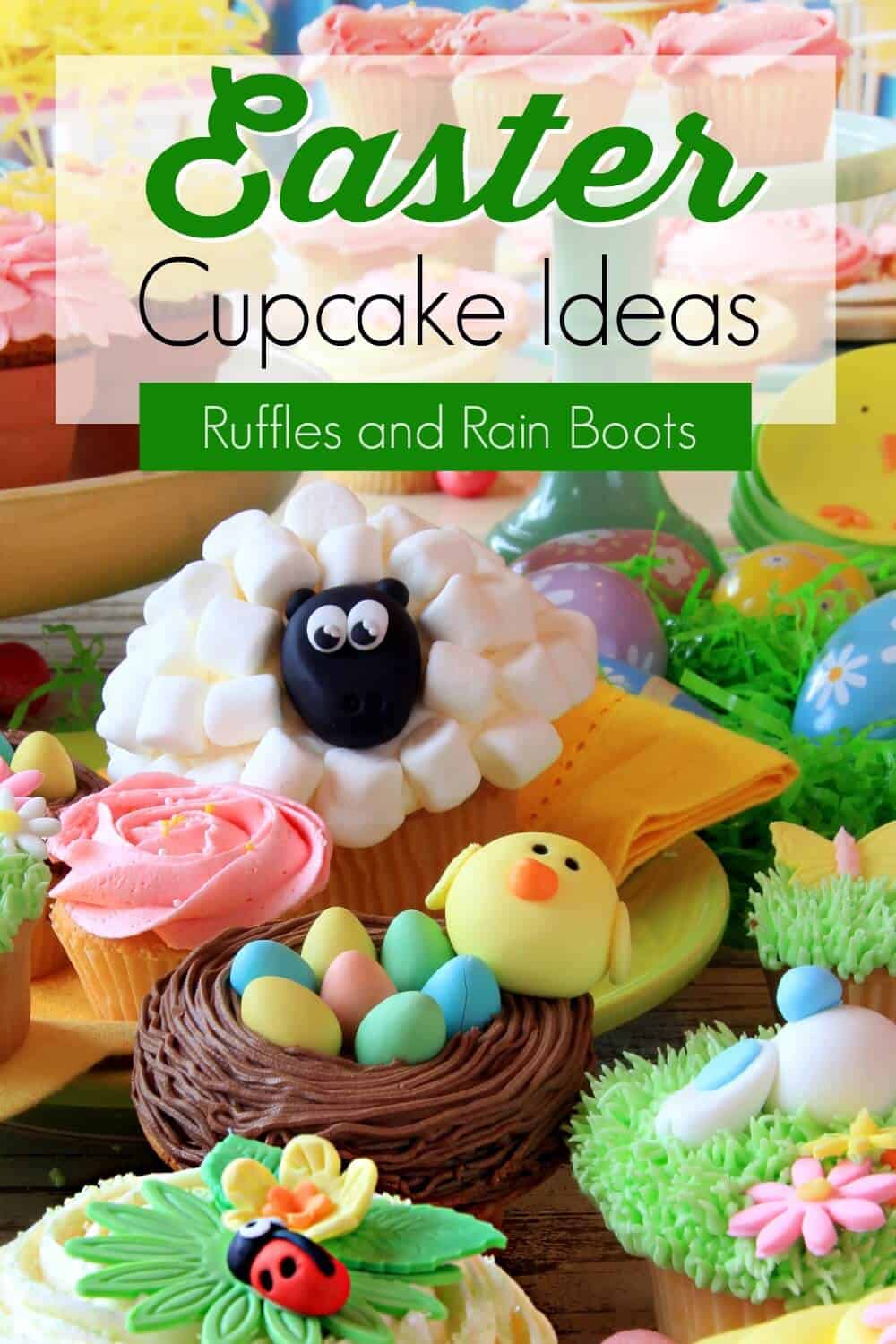 Kid-Friendly Easter Cupcake Decorating Ideas
Cupcakes are kid-pleasing, there's no doubt about it. They are a fun way to get the kids in the kitchen for a little help and allows them to really get creative. Here are a few fun kid-approved Easter cupcakes.
Chocolate Bunny Cupcakes
Let this Easter icon rule the show and the kids will ooh and ahh as they devour these cute Easter chocolate bunny cupcakes. And psst: this is one of the easiest Easter cupcake decorating ideas EVER!
Digging for Carrots Cupcake
A bunny butt and a few candies are all that you need to make this smile-inducing Easter Digging for Carrots cupcake. The kids will love to help plant the carrots, so if you're preparing the cupcakes in advance, leave that part of the decorating to them.
Baby Chick Cupcakes
If you'd like your favorite frosting to steal the show, these Baby Chick Cupcakes are just the thing! And because I walk you through each step, they are simple to put together. Note: if it's warm where you are and if you'll be outside, pass on these.
Easter Cupcakes for Parties and Dessert Tables
Are you tasked with bringing in cupcakes for class or to the family get-together? No problem – these Easter cupcake ideas travel well, even if you have to slam on the brakes in some holiday traffic.
Creamy Carrot Cake Cupcakes
Carrot cake is SO moist and surprisingly easy to make. I adapted it for an adorable set of Carrot Cake cupcakes topped with the cutest little carrot for an elegant Easter dessert idea. They travel well because there is nothing to jiggle loose in transit.
Easter Bunny Ear Cupcakes
The kids will LOVE to help put these together and because these Carrot Cake cupcakes are easy, you'll be done in a flash. These are perfect for class parties or get-togethers because they have just the right amount of adorable mixed with the easy factor!
If You Love Cupcakes…
I need to tell you that I love cupcakes. No really – I think they are the perfect treat because they don't go stale like a cut-open cake and the sky is the limit when decorating. If you love cupcakes, too, sign up for the once-weekly Ruffles and Rain Boots newsletter. I'll deliver creative inspiration to you each week!
Please Save This to Pinterest
Your shares are how this site grows and I am sincerely grateful. Please save this to your favorite Easter desserts board on Pinterest or share with friends on Facebook.