Free Printable Coffee Gift Card Holders
These free printable coffee gift card holders are the perfect partner for a quick gift to any coffee lover. Just click, print, and gift. Be sure to check out the other easy and quick coffee gifts I'm sharing, too – for those of us who love it, you can never get too much coffee!
Custom Gift Card Sleeves for the Coffee Lover in Your Life
Recently, I shared a coffee sugar scrub (that is as divine as it is easy because it's ready in 5 minutes). It was part of a gift basket for a friend who loves the invigorating nectar.
In the basket, I included a few (awesome) items for any coffee fan. I made up the coffee scrub in 5 minutes, these easy coffee bath bombs, and of course, I had to include a gift card.
But I don't like just shoving a plain 'ol gift card into a fancy basket, so of course, I had to make a few gift card holders of my own. I drew out a little to go cup, added on a few options, and you can now print, fold, and deliver.
Whether you're giving a Starbuck's gift card or another coffee shop, this is a standard size and should fit most. An easy and quick option for gifting is to pick up one of the shop's cups and pop this little gift card right inside.
Note: you do not need a cutting machine for these. You will cut these coffee cup gift card holders by hand and be done in less than 10 minutes.
RELATED READING: Coffee Gift in a Mason Jar – Easy and Fast DIY
Fun Coffee Gift Card Holders
These are pretty famous lines any coffee lover will appreciate and maybe even get a kick out of. And hey, if that smile comes before their first cup of java of the day, you're winning.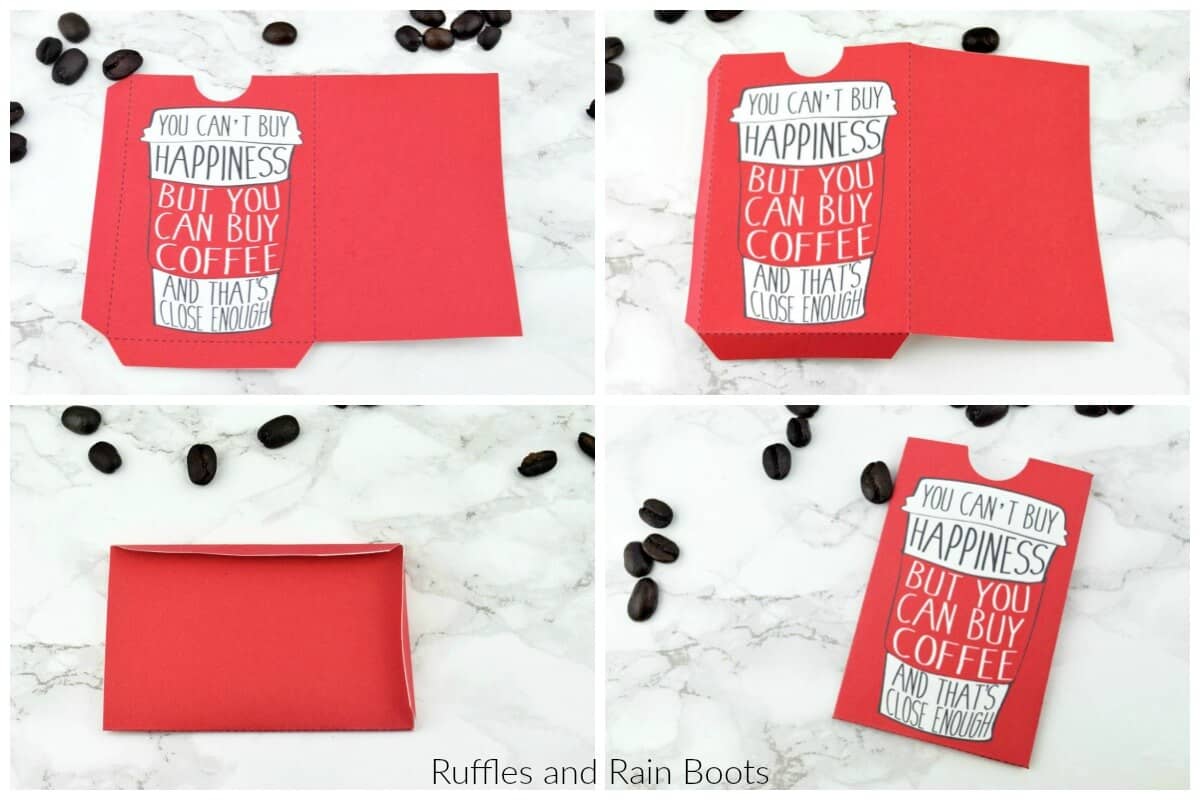 Here are the the sayings for the designs you will get:
Coffee… because life.
You've got this. – Coffee
Coffee, because it's too early for wine.
Coffee Money
You can't buy happiness but you can buy coffee and that's close enough.
How to Get the Printable Files 
Before you download these, please save or share them. The link to the free gift cards is here and in the instruction card below. Be sure to print them at 100% scale or follow the instructions to print them larger for a looser fit.
How to Assemble These Gift Card Envelopes
Assembly note: Pay attention or the gift card holder will be too small for a standard gift card. These are designed to be a tight-fitting gift card sleeve. If you need a larger card holder, expand the size of the page, making sure the one you want is visible in the print preview.
More Coffee Crafts You Might Like
Please Save or Share
Your shares are how this site grows and I am sincerely grateful. Please save these free gift card holders to a fun printable pin board or share to Facebook.