Christmas Paintbrush Gnome DIY
This adorable Christmas gnome made with a paintbrush is so easy to put together and uses some fun techniques for adding depth. The Christmas paintbrush gnome is reversible: one side vintage and one side traditional.
For this easy holiday craft idea you will need a paintbrush, paint, a wood bead, and a bit of fleece. There are some optional extra supplies you might want to add on but gather those and you're ready to start this easy craft.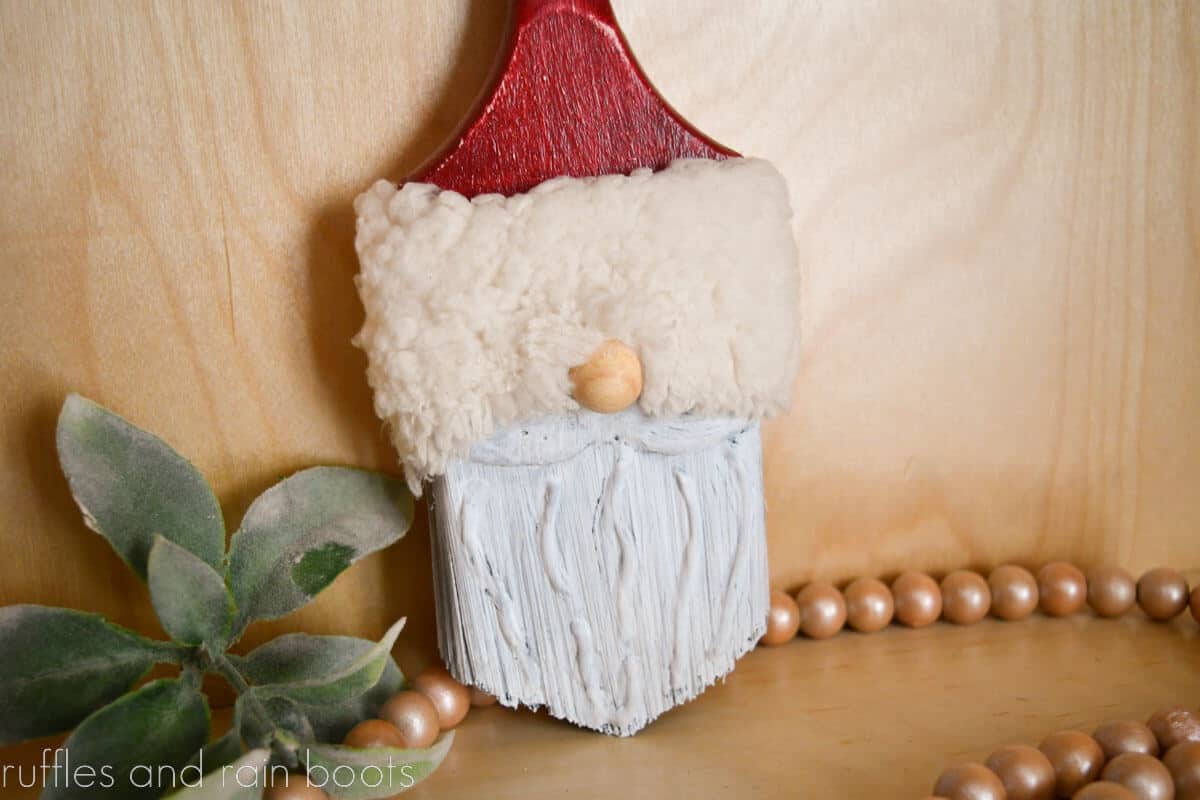 RELATED READING: DIY Christmas Gnomes – Ideas for Everyone
Christmas Gnome Made With a Paintbrush
Here at Ruffles and Rain Boots, it's no secret that I love gnomes. As one of the first to start providing tutorials, I love challenging myself when I see some inspiration. Back at the start of this year, I saw a paintbrush gnome craft for kids (link below) and thought it was too cute.
Get Secret Gnomes, Tips, & Freebies Delivered!
What is the best pattern to use when you don't want to sew? Do you know the secrets to a properly-proportioned gnome? Do you know where to get the best-priced fur?
Get all of this (and exclusive content just for you) delivered right to your inbox with the gnome-making series, free of charge. Sign up to get the once-weekly newsletter (and a jaw-dropping special offer)!
But because I cannot copy someone else's idea, I decided to add a different spin and NOT cover up that gorgeous canvas at our disposal – the brush handle. This can be decoupaged, painted, or even built up with puffy paint. The options are endless, but here's my take on the paintbrush gnome.
Want to Start on This Later? Save or Share It Now
If you're gathering ideas or supplies, use the sharing buttons to save this to a holiday crafts pin board or your Facebook timeline. The shares really help me out and either will make it easy to find when you're ready to begin.
As an Amazon Associate, I could earn from qualifying purchases. There could be affiliate links within this article.
Tips for Making a Gnome from a Paintbrush
Inexpensive paint or chip brushes can be found in your craft room (those ones you left paint on to dry accidentally), big box stores, and even the Dollar Tree. The 3 inch brush I'm using is one of theirs.
Paint the entire thing, even the bristles, with a few coats of paint. The bristles will become stiff and, no matter their color, should be an opaque white.
I used this gesso paint because it's cost-effective when prepping for paint. You can use chalk paint, however, it's more expensive.
Painting the ferrule (the metal part of the brush which holds the bristles) is optional. I chose to paint it in case the fleece moved about.
Sherpa fleece comes in SO MANY colors. For the vintage Santa gnome, I'm using an off white. For the traditional side of the paintbrush gnome, I used white. Just add hot glue along the top and bottom edge to be sure it doesn't move.
If you have an insane stash of small wooden beads (who doesn't?), use them for this craft. The thick fleece will cover the holes and no one will be the wiser.
Use a bit of ribbon or cut a piece of twine turn this into a gnome ornament and hang this on your Christmas tree or a door knob.
Optional Puffy Paint Gnome Beard Dimension
When I use puffy paint, I get a lot of questions so I'm going to answer them here. Puffy paint is found in the fabric painting section of the craft store. For something like this – in which the puffy paint is getting painted over – look for clearance colors.
Puffy paint will deflate a little bit overnight and you can add a second coat right on top of the first. Before painting over it, however, make sure it dries per the package instructions or you will get a gloopy mess.
How to Make a Christmas Paintbrush Gnome
Below is the step by step written tutorial for this easy paintbrush craft idea. Keep this page open and follow the instructions or use the print button to take it offline.
If you're a visual learner, watch the quick Christmas paintbrush gnome video tutorial here on YouTube. While you're there, subscribe – we have an awful lot of fun over there.
More Holiday Gnome Crafts You Might Like
Please Save or Share This Fun Gnome DIY for Christmas
Your shares are how this site grows and I am sincerely grateful. Please save this to a holiday crafts pin board or share it with a crafty group on Facebook.