The Best Fonts for Weeding – Cricut and Other Cutting Machines
Avoid the frustration and use these best fonts for weeding. No matter what machine you have, these script and bold fonts make it easier.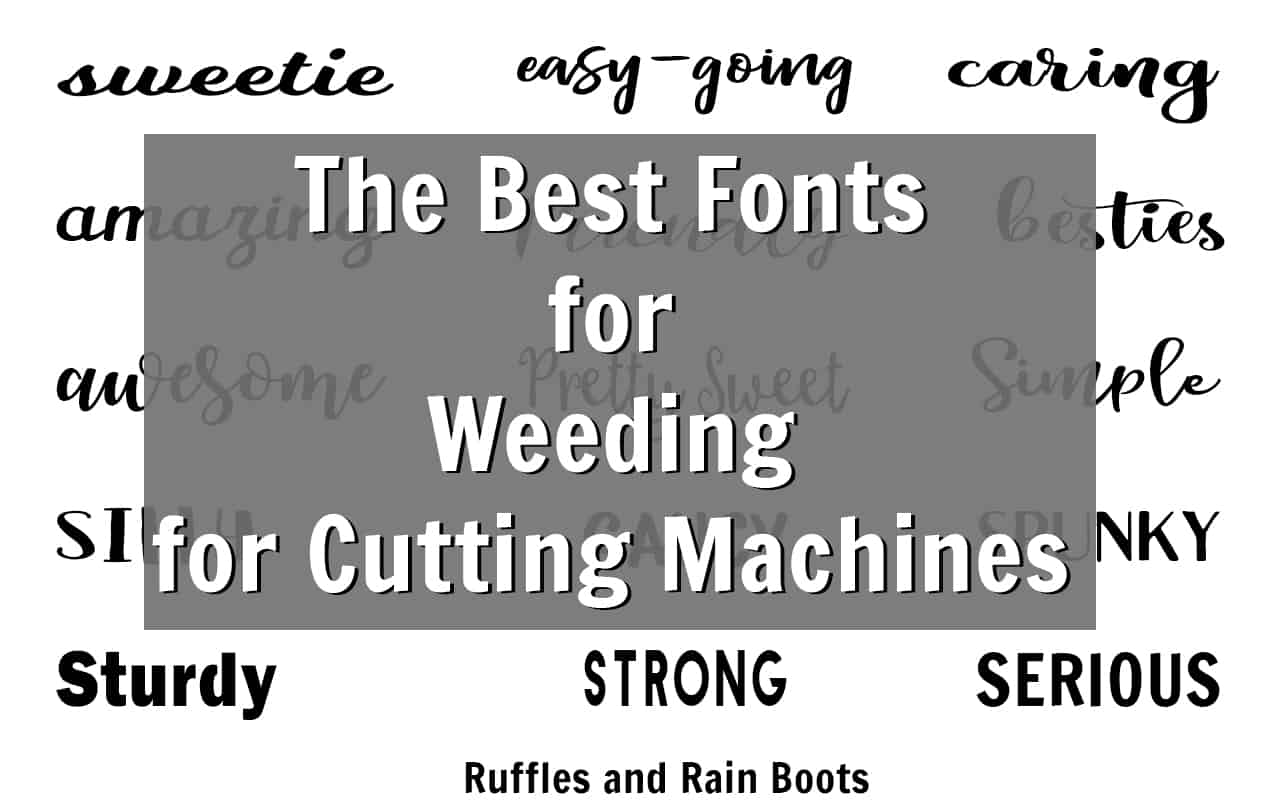 There are affiliate links in this article which means, at no additional cost to you, we could receive compensation for our recommendations. You can read our full disclosure policy.
What You'll Find On This Page
The Best Fonts for Weeding
I'm no expert, but one of the biggest frustrations I had when learning to use my Cricut was weeding fonts. When I chose the 'wrong' font, the material didn't matter, nor did the tools – I was in for a stressful time.
I really want to help you avoid the nail-biting, tool throwing frustration I experienced. So, I put together a list of what I consider the easiest fonts to weed. I've included some script fonts and bold fonts.
Get Exclusive Free SVGs, Discounts, and More!
I'm giving away free SVG files to help you create for friends, family, and your home. Get all of these (and more) along with the weekly newsletter.
Free SVG and Font Collections from Ruffles and Rain Boots
Do you love free fonts and free SVG files for crafting? I sure do and it's why I've put together some very popular collections for digital crafting. Here are a few popular collections here on Ruffles and Rain Boots:
Sign up for the once-weekly Ruffles and Rain Boots newsletter and you'll get everything – inspiration, notification of new SVG designs and more!
10 Easy Weed Script Fonts for Cricut
The script fonts below can also be used for the pens, but these are thicker fonts so keep that in mind. Some are free, some are not.
Sweetie: This sweetie is a strong font for most crafts. I love the vintage feel.
Amazing: She really is amazing. I love her as an accent font.
Caring: This is my favorite font duo – I use this for a lot of projects because both of the fonts are some of the best fonts for weeding. Plus you get extras – I love extras.
Besties: You're going to want to braid each other's hair! She's a fun font to have.
Easy-Going: This hand-written font is a workhorse. Great for bold accents, too.
Simple: I grabbed this font a few months ago and it's one of my favorites. You can reposition it well to have a continuous script or separate it. LOVE it.
Pretty Sweet: The way the hand lettering drop letters bounce puts a smile on my face.
Awesome: Yes, this font is exactly that: awesome. Can you tell I'm a sucker for a bouncy font?
Friendly: Doesn't this just remind you of someone's handwriting? And not my illegible mish mash…
Regal: Well, I messed up here, friends. Regal is "awesome" from above. But here's another vintage-inspired goodie I use a lot.
Check out the fun and tested items we love for crafting with the Cricut machines!
7 Easy Weed Bold Fonts for Cutting Machines
The fonts below are some of the best fonts for weeding because they are stocky and thick. They're great as primary fonts alone or to accent script or handwriting fonts.
Silly: Don't you just love it when you get extra? I'm a fan of this font and the extras (3 fonts)!
Serious: Don't let him fool you, this fun can be fun, serious, or a workhorse. Love it.
Strong: Bold and clean, this fella is another one I turn to a lot. Try widening him and see the effect.
Spunky: I. LOVE. THIS. SET. of fonts. It's one of my favorite font families and I use it all the time. Note: I have many businesses, so it makes sense for me. Sign up and watch for deals on The Hungry Jpeg.
Saucy: Doesn't this just remind you of an old newspaper ad? Layer it and it's magical!
Sturdy: This one definitely lives up to the sturdy moniker. It'll come right on off that sticky mat!
Sublime: Okay, okay. This one is kind of a script but also a bold font. I love it because it gives great visual interest without a lot of work. #lazycrafter
Over to You
Which font on this list is your favorite? What about a font that ISN'T on this list? Let me know in the comments and I'll make a project with it to test it out and add it to the list.
Please Share This on Facebook and Pinterest
If you want to save the script fonts to your favorite Pinterest board…
If you want to save the bold fonts to your favorite Pinterest board…