Strawberry Brownie Kebabs – A Fun Treat on a Stick!
These strawberry brownie kebabs are so much fun to make and eat! My daughter loves this strawberry dessert idea because she can help make it.
Guest-Worthy Strawberry Brownie Kebabs
Here at Ruffles and Rain Boots, I am such a huge fan of easy anything – easy crafts, easy desserts. We've shared ridiculously easy desserts like these:
When I say that I love anything which can get kids in the kitchen, I mean it. There's math to do, science fun to have, and well, I just like the help. ;)
These strawberry kebabs are a snap to put together and require barely any adulting of the kids. It's the perfect treat for everyone!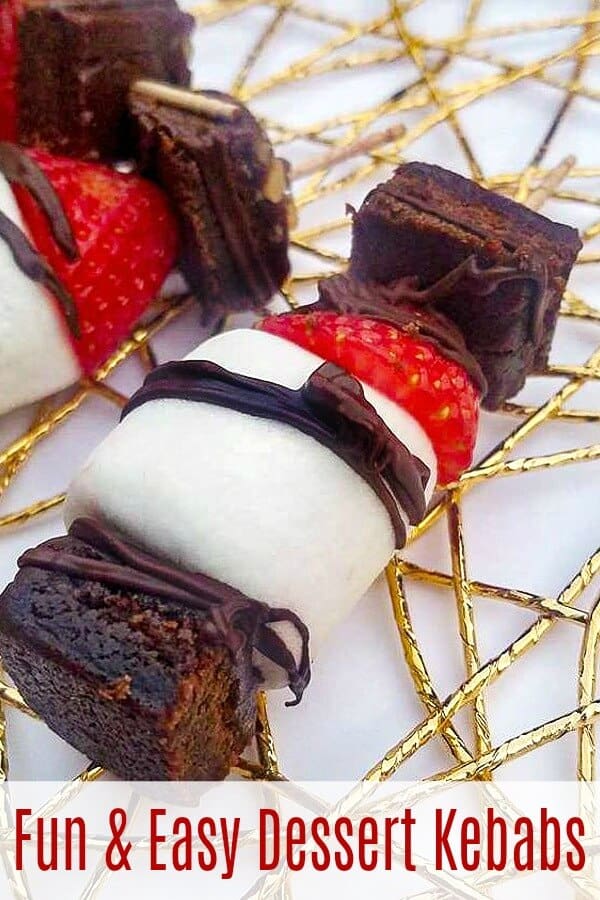 Strawberry Kebabs – Ingredients You Likely Have On Hand
If your house is like mine, you probably have everything you need for this quick treat. For these strawberry brownie kebabs, you'll need:
large marshmallows
strawberries
brownies – homemade or store-bought because we know you're busy :)
1/2 cup chocolate chips (for topping)
1/2 to 1 tablespoon coconut oil
skewers
How to Make Strawberry Brownie Kebabs
Remember how I said to get the kids in the kitchen? Seriously, this strawberry skewer treat requires minimal adult supervision!
And you're done with your fun – and guest-worthy – strawberry brownie kebabs!
Over to You
Have you made many treats on skewers? My daughter thinks they are the bee's knees!
Please Share This on Facebook and Pinterest