Moana Coconut Fluffy Slime Recipe
This Moana coconut fluffy slime recipe is so easy to come together (even without Borax)! As part of our Moana movie night, this activity was the big winner. Watch the video to see how quickly it comes together.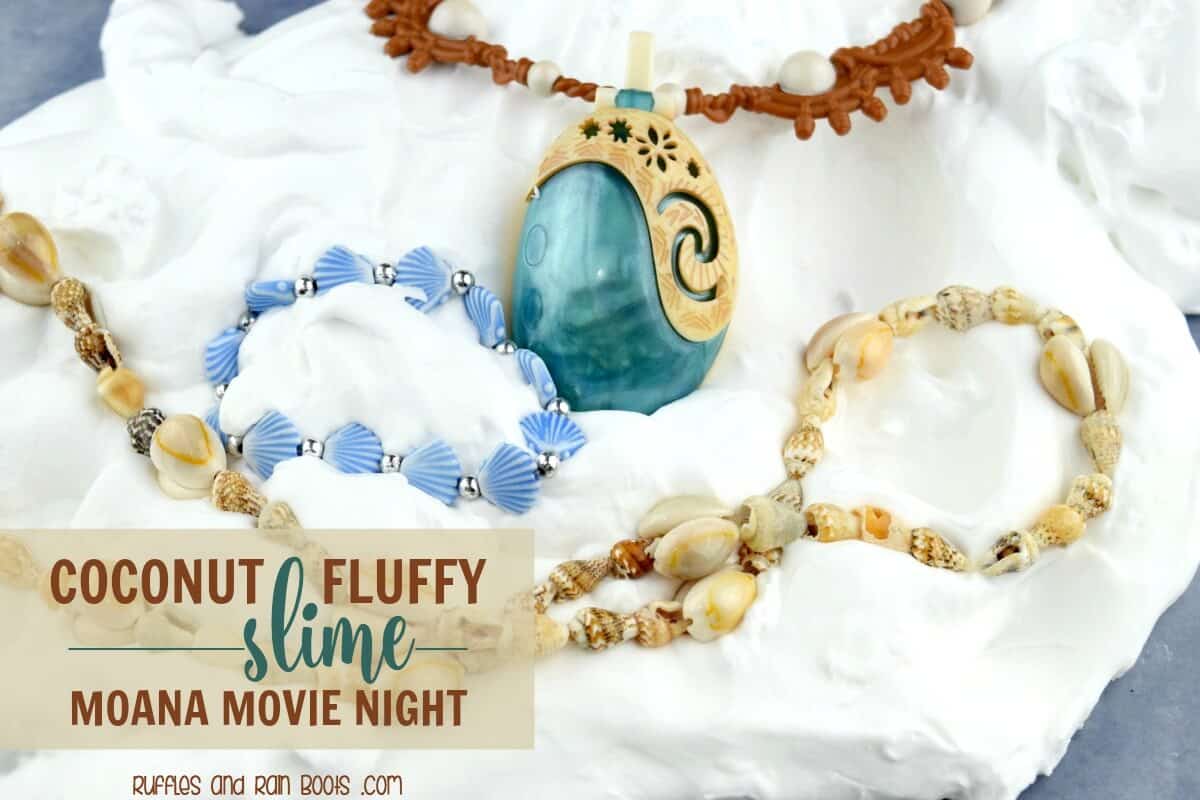 What You'll Find On This Page
Moana Movie Night
Recently, we've started sharing our love for family movie nights. We make crafts and whip up a special popcorn – something the little ones would NEVER get normally. 
Our crafting started with a paper lei (coming soon) and ended with calming ocean bottles (coming soon). The bottles are being played with as we speak, two weeks after our Moana movie night. I'd say they were a hit!
We made special popcorn boxes and will share both the Moana popcorn box printables soon. I created them in both miniature and large sizes in case you want to mix up a Moana party table.
As part of our Moana movie night, we made Samoa Cookie Popcorn. Inspired by the Girl Scout's famous sweet treat, our popcorn was a hit!
Supplies for Easy Fluffy Slime
There aren't a lot of supplies for this soft, pillow-like fluffy slime recipe. We've made this with both activating agents and it works but the Borax solution does help the slime come together faster.
Check out our Amazon shop for the best slime ingredients, fun add-ins, and colorings!
Instructions for Coconut Fluffy Slime Recipe
See the video below to see how this fluffy slime recipe reacts when it's ready.
Coconut Fluffy Slime Video
My little one LOVES watching (and making) videos. If yours do, check out this quick how to make fluffy slime video to see the coconut fluffy slime come together.
Over to You
Are your kids into the "slime craze?" We love making any sensory play prompt, slime included, so expect to see more from Ruffles and Rain Boots soon.
Please pin this to your favorite sensory or slime board on Pinterest. Your shares help us grow!