Princess Belle Dress Up Costume
This DIY Princess Belle Dress Up costume, inspired by Disney's Beauty and the Beast, is quick to make using just a few supplies. We've made many dress up costumes and share our proven beginner sewing tutorials will walk you through it step-by-step.
When I asked my daughter what she wanted to be for Halloween, she said Belle and I was ready to go to the Disney store and buy the new dress. But the 4-year-old said, "Please will you make me one, Mommy? I don't want a dress like everyone else, I want one of yours."
If she wasn't my only, she'd definitely be my favorite.
RELATED READING: See All the Halloween Crafts and Food on Ruffles and Rain Boots!
What You'll Find On This Page
Sewing for Beginners
Let me explain the extent of my sewing skills:
I can sew in a straight-ish line.
I have to look up a video EVERY TIME I need to sew on a button.
I have more holes in my fingers than a sieve when I attempt to hand sew anything.
Now, I'm not telling you all that to embarrass myself. I'm stating it here because if you have a sewing machine, a needle, and some thread, YOU CAN MAKE THIS. Promise.
Supplies You'll Need for the Belle Dress Up Costume
My entire craft store bill for this Belle dress up apron was a whopping $23 (we already had the $3 apron) and if I would do it again, I would make the roses from felt. That would bring the total down to about $19 (including the apron). That makes this a fun and frugal craft for Halloween or dress up.
A child-sized apron
Yellow satin
12 yards of yellow tulle (don't get the sparkly, expensive stuff)
Green (light and dark) craft felt
Gold ribbon
Get the free Belle dress template (use the Elsa pattern with a straight neck, making sure to add the 1/2 inch at the bottom of the bodice)
Princess Belle Dress Up Costume: Cuts
First, cut the bodice from the satin using this free princess template (see note above).
Skirt piece – 25 inches wide by 18.5 inches high (these dimensions work for 3-6-year-olds but if this is for an older child, measure the length).
Tulle – I cut the width – doubled over, just like it comes on the spool – by 21 inches. Again, if this is for an older child, measure the length. You're going to gather it at the bottom, so keep that in mind.
Princess Belle Apron: Skirt Construction
Next, you'll start assembling the skirt. Double hem the satin skirt piece, making it about 23.5 x 17.5-inches. This eliminates fraying.
Pin the tulle to the skirt piece, alternating 1.5-inch pleats with every layer of tulle (I folded my sheets so each sheet had two layers of tulle).
Sew tulle to skirt piece.
DIY Princess Belle Costume – Bodice
Now, sew the ribbon (in two sections) to the bodice. Overlap one to make it look finished.
Sew bodice to the apron (just tuck the satin under and pull it around the back).
Finishing Details for the Belle Dress Up Apron
Next, it's all about the details for our Princess Belle dress up costume… You can choose to hand- or machine-sew the veins on the felt leaves. If I had to do it again, I would have just done it for the three leaves on the bodice.
First, hand-sew the large flower and three various-sized leaves to center of the bodice for our Belle costume DIY. Psst: you're DIY'ing the heck out of this thing…
Hand-sew the gathers in the tulle skirt piece and secure the end gathers to the other layers of tulle. First, identify where your top layer of gathers will be.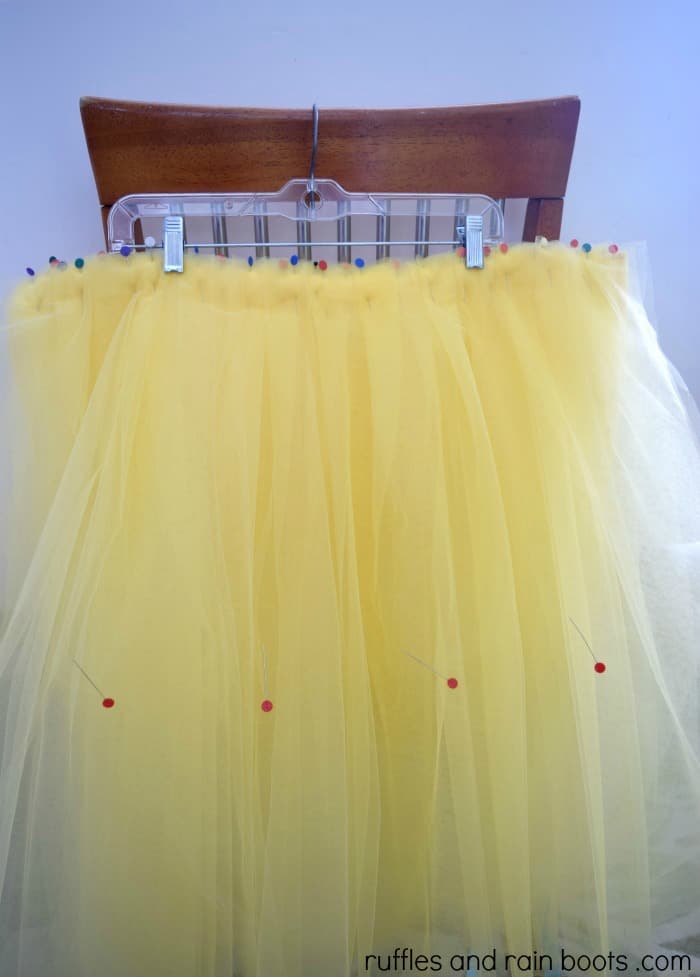 To sew a gather, just start at the bottom of the layer of tulle and thread a needle and thread in-and-out going up. Once you've reached your marker point, just pull the thread gently and tie off around the gathered section. Secure with a couple of knots and cut the thread.
Note: I made three layers of gathers and left the remaining layers straight. It was easier and I didn't have to worry about little ones tripping on a gather.
Hand-sew on the smaller flowers and leaves on top of the gathered section to accent the gathers.
Forgiveness and Dryer Sheets
A big tip I have is to keep in mind that tulle is forgiving. Nothing really needs to be exact when working with tulle (which is why I work with it). Don't fret and ALWAYS have a dryer sheet handy (or something that controls static).
DIY the Details and Keep on Crafting
To keep costs down, make your own roses from felt. Y'all, to be honest, I was too lazy and bought buttons at JoAnns that most resembled a rose. I'm the world's laziest crafter, I know.
You will have material left over in case you want to whip up a quick Halloween Trick-or-Treat bag or a purse. For every dress-up outfit I make, the little one gets a matching handbag – I'm a sucker.
Summary
You'd be the mother (grandmother, auntie, care-giver) extraordinaire if you made this Princess Belle Dress Up Costume for a little one in your life. And if you have any questions, ask them in the comments!
Would you please pin this to your favorite dress-up or Halloween costumes board?