Free Wedding SVGs, Fonts, and Clipart for Gifts and Stationery
We're dishing up free wedding fonts, free wedding SVGs, and free wedding clipart to make your big day planning a breeze. Save the date cards, invitations, menu cards, and place cards are all easy to make!
Free Wedding Fonts and Free Wedding Graphics
When you're creating a DIY wedding, you have TONS to do. From wedding invitations and Save the Date notes to the wedding crafts, things can be hard to pull together. Don't waste time finding the perfect wedding font or graphic for your big day!
Before you get started, be sure the happy couple creates an Amazon wedding registry! There are so many benefits, it's too good to pass up.
Below is a list of my favorite free wedding fonts, free wedding SVGs, and a few wedding graphics to help you plan your DIY wedding. If you're looking for anything in particular, just pop a comment down below and I'll help!
Get Exclusive Free SVGs, Discounts, and More!
I'm giving away free SVG files to help you create for friends, family, and your home. Get all of these (and more) along with the weekly newsletter.
Just a note: if you want all of the free SVGs and fonts we share on Ruffles and Rain Boots, sign up here to receive the once-weekly newsletter.
How to Download These Free Wedding Graphics…
This is a collection of free unicorn SVGs. You must click through each item to get them.
In order to download, click on the link (underlined in blue) and follow the download instructions. I have tried to group them by image but friends, click through to find so much more. Note: if the item is struck through with a line, it is no longer available.
There are affiliate links in this article which means, at no additional cost to you, we could receive compensation for our recommendations. You can read our full disclosure policy.
Free Wedding Fonts for Invitations, Save the Dates, and More!
These fonts are free at the time of publishing. If one happens to be pulled from circulation, please leave a comment below. I have THOUSANDS of free fonts and can help you find a similar design.
Get the fonts you like in the images by clicking on the matching words below. If you want suggestions on font pairings, I provide examples of font pairs and links to free fonts in this free Christmas fonts article and this free Valentine's Day fonts article.
Bride and Groom – a simple font, this script is easy to read and adds a little bounce
Forever and Always – bounce lettering in a broadly penned hand lettering style – gorgeous
Best Man – this italic style has just enough lean and interest for any save the date!
Maid of Honor – she's bold and strong, just like your maid of honor
Bride Squad – the gals have your back and this font makes any wedding design stand out
Groomsman – he's a classic, just like this font
Low-Priced Wedding Fonts
Sometimes the right look is worth a few bucks. Below, I've compiled a few low-priced wedding fonts – perfect for wedding invitations or wedding crafts!
Happily Ever After – can't you just see the story of how you met written in this?
New Beginnings – this style is perfect for accent titles on a menu
Love and Happiness – simple with a little bounce, this is a good script font for wedding invitations
Free Wedding SVGs and Sayings
If you love the look of a premade font style, you can't go wrong with any of these free wedding SVGs, cut files, and clipart.
Wedding Sign Bundle – I think you honestly cannot go wrong with something this packed.
Save the Date – This is so elegant and can be easily placed on to a Save the Date card or magnet.
Bride and Groom Bundle – LOVE this so much. It has almost everything you'll need. And it's FREE!
Happily Ever After – Written in a beautiful brush font, this is quite stylish and trendy.
Free Wedding Clipart and Graphics
Digital Backgrounds (gorgeous damask patterns to use for anything)!
Hand Drawn Rustic Arrows – If you love either a Boho (Bohemian) or rustic farmhouse style, these would be a great addition to any wedding. I love the imperfection in these.
Mason Jar Clipart – I haven't found ANY free mason jar clipart pieces that would look good enough for a wedding. I did, however, find this inexpensive mason jar clipart (boho, farmhouse style) and this mason jar clipart (plain, use any flowers).
Free Wedding Flowers Clipart
Romantic Flowers and Floral Wreaths – These are gorgeous and would be perfect for a Save the Date card or wedding invitation.
Summer Flowers and Patterns – You could design an entire wedding with these colors and flowers! And the birds are just too sweet.
Done-For-You Wedding Invitations and Sets
This is primarily a collection of free wedding resources, but when a few readers asked for advice on wedding stationery, I provided these. Friends, they went wild and had no idea this type of service was out there.
Give a look to some of these and explore. There are so many options!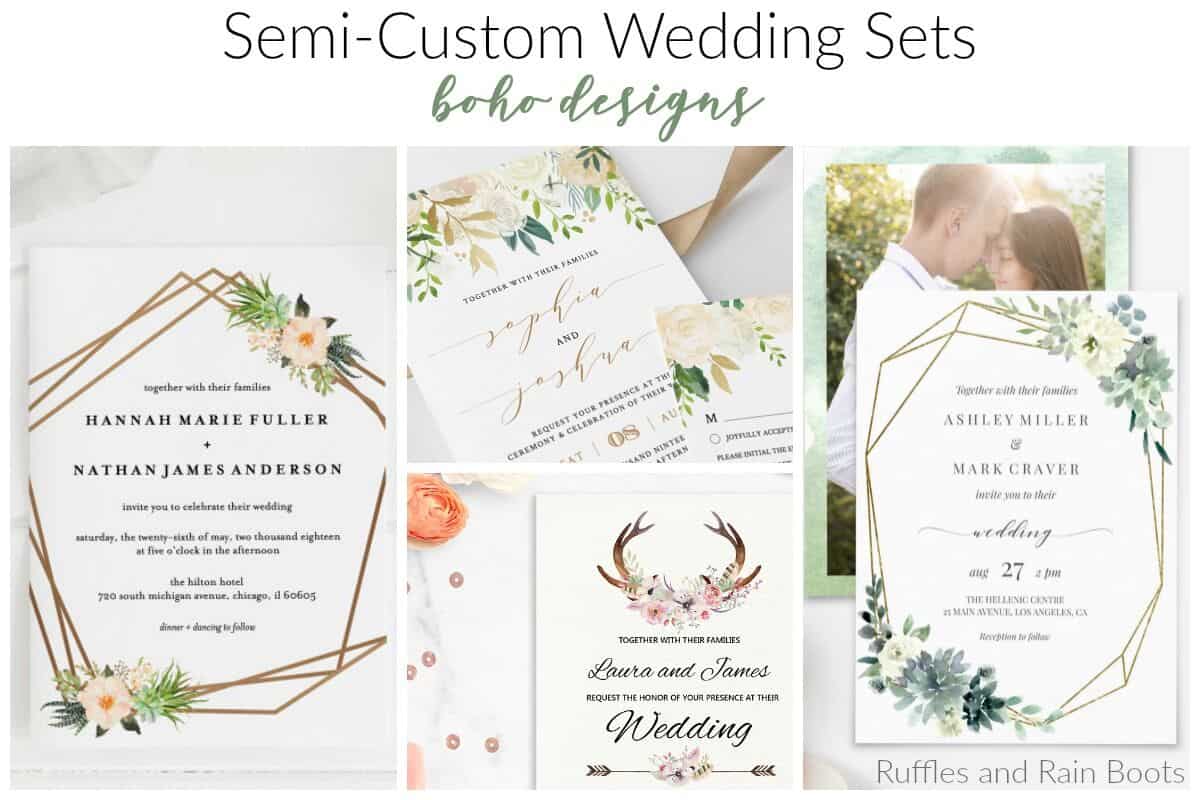 Boho and Rustic Wedding Stationery Sets
Succulents and geometry make this simple design stand out.
Like the geometric element but want flowers? This feminine design is breathtaking.
Gold, greens, and simple lines make this boho style elegant and statement-making.
Antlers and flowers are a dreamy combination.
Modern Wedding Stationery Sets
Over to You
If you're looking for any particular wedding SVGs, wedding fonts, or other graphical elements for the big day, just list them below.
Be sure to pin this to your favorite board on Pinterest. It will be updated as I find new, free wedding elements!