This Chillin' Like a Villain Ursula Sleep Mask is Wickedly Fun!
She's so wicked, but so fun, so I definitely needed to make this awesome Ursula sleep mask as one of my Disney Cruise fish extender gift ideas. It's the best–or worst…because, you know, she's evil…
Ursula Sleep Mask
Here at Ruffles and Rain Boots, we have a love of the baddies. I mean, like, the good guys would just be bland paper-people with no depth if it wasn't for the wickedly evil shadows behind them, right?! I mean, the Disney Villains are the ones that add all the CHARACTER. Oh. I just can't. So, when I was planning out making some Disney Cruise fish extender gift ideas, well, of course an Ursula sleep mask was on the list–I mean, she's the wickedest under the sea!
RELATED READING: THE BEST ARIEL AND URSULA MICKEY EARS
And wow–it turned out so COOL! All the tentacles and suckers and then the "chillin' like a villain". I'm dying at my own cleverness. LOL! Erhm…so, if you're ready to get chillin like a villain, let's get started.
Get Exclusive Free SVGs, Discounts, and More!
I'm giving away free SVG files to help you create for friends, family, and your home. Get all of these (and more) along with the weekly newsletter.
No Time to Make This Now? Pin it for Later
You're busy, I get it. Pin this to your favorite easy DIY Disney craft ideas board on Pinterest and it'll be here for when you're ready.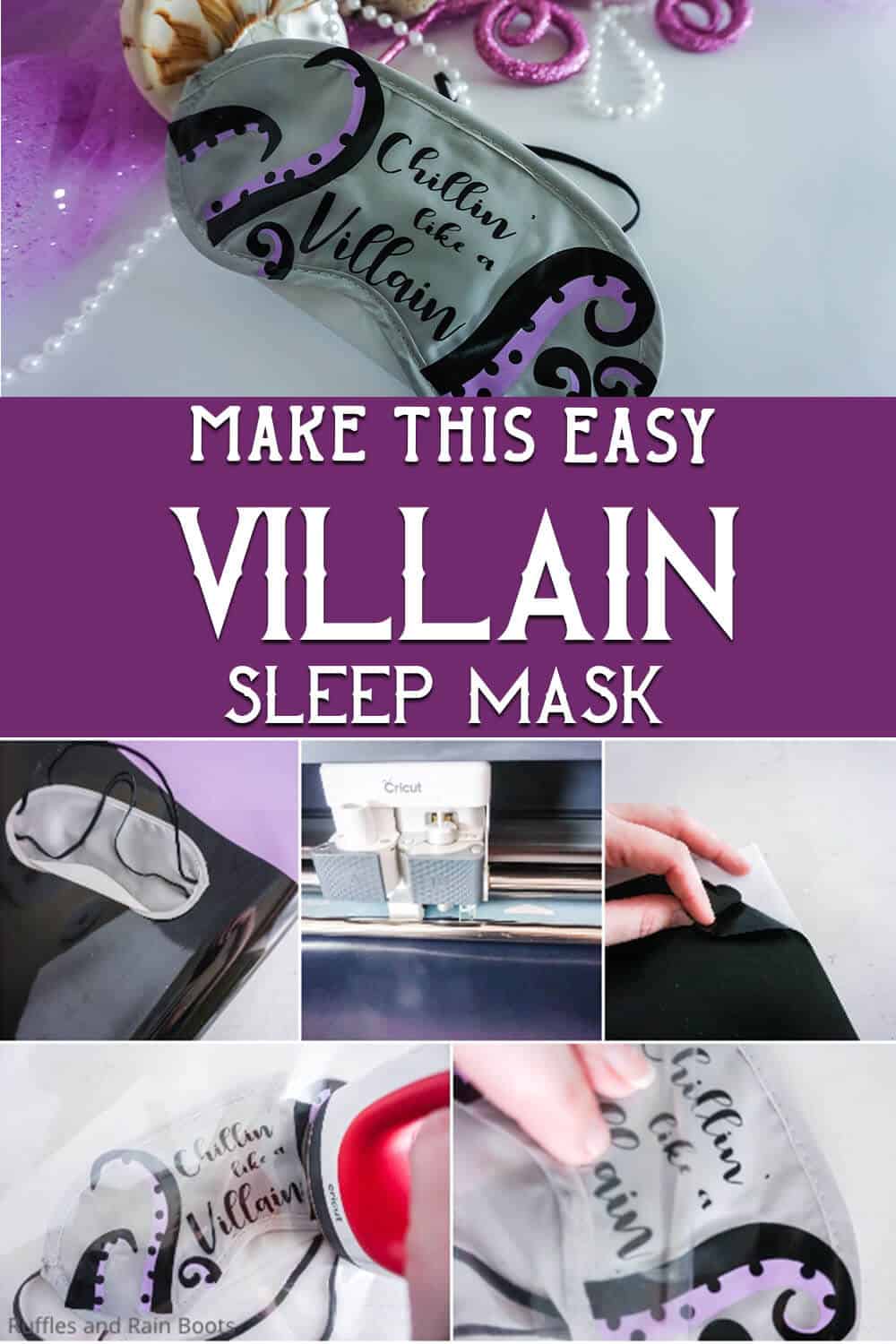 As an Amazon Associate, I can earn from qualifying purchases.
Tips to Make Disney Villain Sleep Mask
Think about getting some awesome sleep masks like these to use as your base. Now, if you only plan to bust out one Disney Villain eye mask, you can certainly just snag one eye mask blank, but, you're probably going to want several different colors because I have already made some really cool designs and have more planned. Check out these eye masks I've made so far:
If you're a vinyl-scrap-hoarder like me, you're going to love this project. You can use all those little pieces of scrap vinyl you've been hanging onto. So awesome.
Oh, and because there's text and you're using heat transfer vinyl, you're going to want to remember: MIRROR YOUR IMAGE. This is not going to do anything wonky to your tentacles–they'll come out fine either way. But the text, you'll be re-cutting that if you don't mirror it.
Another trick I love to use to make weeding and applying vinyl so much easier is to use the attach function in Cricut Design Space. There's just something fantastic about not having to place each piece individually…particularly the text.
To make sure that the vinyl is ironed-on evenly, you may want to ironing your eye mask before you start. That thin satiny fabric that the eye masks are made of get wrinkled sometimes in shipping.
If I'm going to recommend a heat transfer vinyl for this Ursula sleep mask, it's going to be the Siser EasyWeed you can find here. Because these are such small pieces and you have to layer them, it's so convenient to not have to deal with the whole separate transfer sheet thing.
How Do I Make this Ursula Sleep Mask?
I'm so glad you asked. Below is our written tutorial.
More Easy Disney Crafts You Might Like
Please Save This to Pinterest
Your shares are how this site grows and I am sincerely grateful. Know a friend who'd like this? Please share it on Facebook or save it to your favorite best Disney crafts board on Pinterest.