Christmas Gnome Ornaments DIY
These adorable Christmas gnome ornaments are a 15-minute holiday craft. Simple craft supplies and imagination are all you need to get started!
You can make a set of these and sell them at a craft fair or holiday fundraiser to hop onto the popularity of gnomes. Or, make yourself a few and use as ornaments for the tree or as package toppers and tags.
What You'll Find On This Page
DIY Christmas Gnome Ornaments
Here at Ruffles and Rain Boots, I am known for sharing adorable DIY gnomes. If this is your first time here, I've shared many easy Christmas gnome crafts and would love for you to explore them a little. I've also perfected a more simple gnome ornament pattern (if you would like to work from one).
These adorable Christmas gnome ornaments are perfect for a cold night. They make for a fun family craft night idea and are perfect to put together kits or sets of ornaments to sell.
Get Secret Gnomes, Tips, & Freebies Delivered!
What is the best pattern to use when you don't want to sew? Do you know the secrets to a properly-proportioned gnome? Do you know where to get the best-priced fur?
Get all of this (and exclusive content just for you) delivered right to your inbox with the gnome-making series, free of charge. Sign up to get the once-weekly newsletter (and a jaw-dropping special offer)!
DIY Christmas Gnome Tutorials
I have made literally hundreds of holiday gnome tutorials and even Christmas gnome crafts for kids. These little cuties stole my heart long before they became "Internet popular" and I've shared original patterns and designs for years.
If you love these little guys, browse around – I'm sure you'll fins some inspiration for gifts and decor!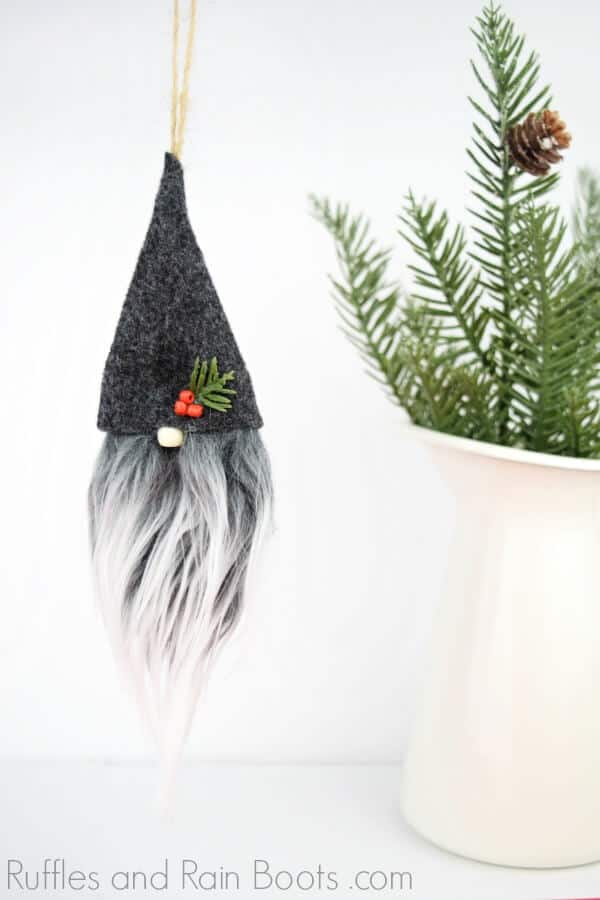 As an Amazon associate, I could earn from qualifying purchases. There could be affiliate links within this article.
Supplies Needed to Make Wood Slice Gnome Ornaments
Wood slice ornaments are the base for these cute little gnomes and they're available everywhere! We got a package of three sizes and have been having a lot of fun making holiday crafts.
For these, the only item you'll need to hunt down is the faux fur. You can use any type of craft fur which is available at most arts and crafts stores and I've even found some at the Dollar Tree. If you'd like the type we used, go to a fabric store and have a quarter of a yard cut. You can make so many gnomes!
Mongolian fur fabric (or another craft fur)
craft felt
a nose (you can use plastic or wooden beads, clay pieces, or even buttons)
hot glue
twine or ribbon (about 10 inches)
scissors and a razor blade
If you're new to making gnomes, check out our gnome supplies list on Amazon. Psst: there are even a few gnomes for inspiration (or to pick up if you're just too busy during the holidays to craft).
RELATED READING: NEW: Gnome Ornaments to Make for Christmas
How to Make Quick Christmas Gnome Ornaments
This is such a fun, quick Christmas craft idea. And the best part is that you can customize your gnomes to fit any decor, tree theme, or personality. My daughter had the great idea of including a couple as package decorations, so we're using our smallest wood slice rounds for that.
Below is a written tutorial but it's best explained (and demonstrated) with video. I get many questions about the hats, so I wanted to show you how easy this gnome hat "pattern" is with the Christmas gnome ornaments video tutorial.
How to Make a Christmas Gnome Ornament
Keep this page open and follow along with the step by step tutorial. Or, if you would like, scroll down and print the tutorial without images.
First, gather the ends of your twine or ribbon and tie them in a knot. Set aside.
Using a razor or other straight blade, cut the faux fur around the wood slice so that there is just a small bit of overlap. To get a natural-looking beard, do not cut through the fur – only the backing. Cut a small mustache piece – a rectangle – and separate it into two sections.
Hot glue the beard to the wood slice, add the mustache on top, and glue the nose on top of that.
To make the hat, wrap a piece of felt around the wood slice, allowing a small bit of overlap as shown in the video. Fold in half and cut off the excess. Trim to a rounded triangle and open the felt piece.
Glue the bottom of the hat together to secure the cone.
Hot glue the twine holder at the top of the cone and then secure the entire cone with glue.
Slide the hat over the wood slice, positioning it to scrunch on the nose. Hot glue it to the nose and then secure the rest of the hat to the wood.
Add any decorations you would like and your Christmas gnome ornaments are done!
More Scandinavian Gnome Crafts
As I mentioned, I love these little guys. Whether you call them tomte, nisser, Nordic gnomes, or Christmas elves, we've got a craft for you. I love putting together inexpensive gift ideas which repurpose items you have on hand. Check out a few of our favorite gnome crafts:
Please Save or Share This Easy Christmas Gnome Ornament Tutorial
Your shares are how this site grows and I am sincerely grateful. Please save this to a DIY ornaments pin board or share it with a crafty group on Facebook.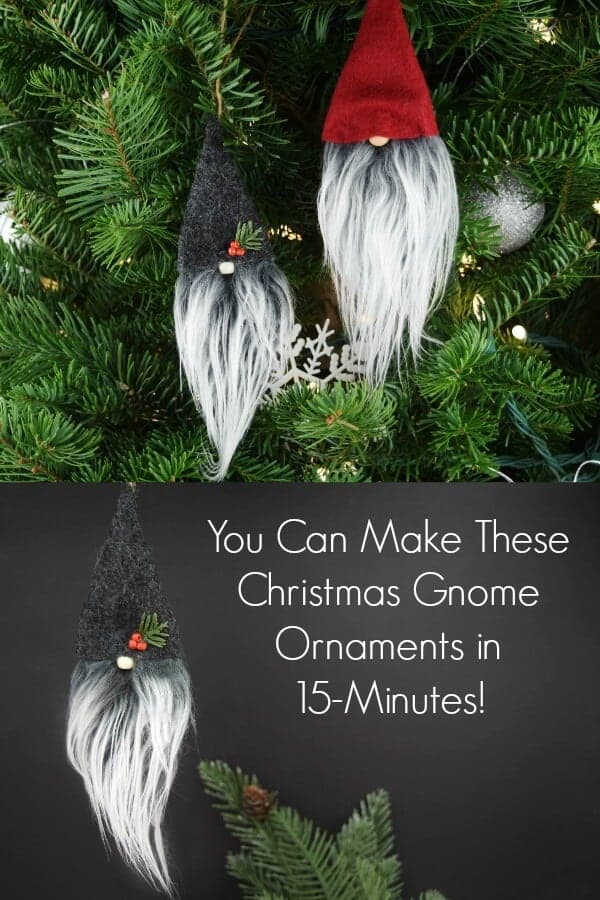 If you're looking for the best DIY Christmas gnome tutorials, you have come to the right place. Check out all of my favorite tomte tutorials for the holidays!